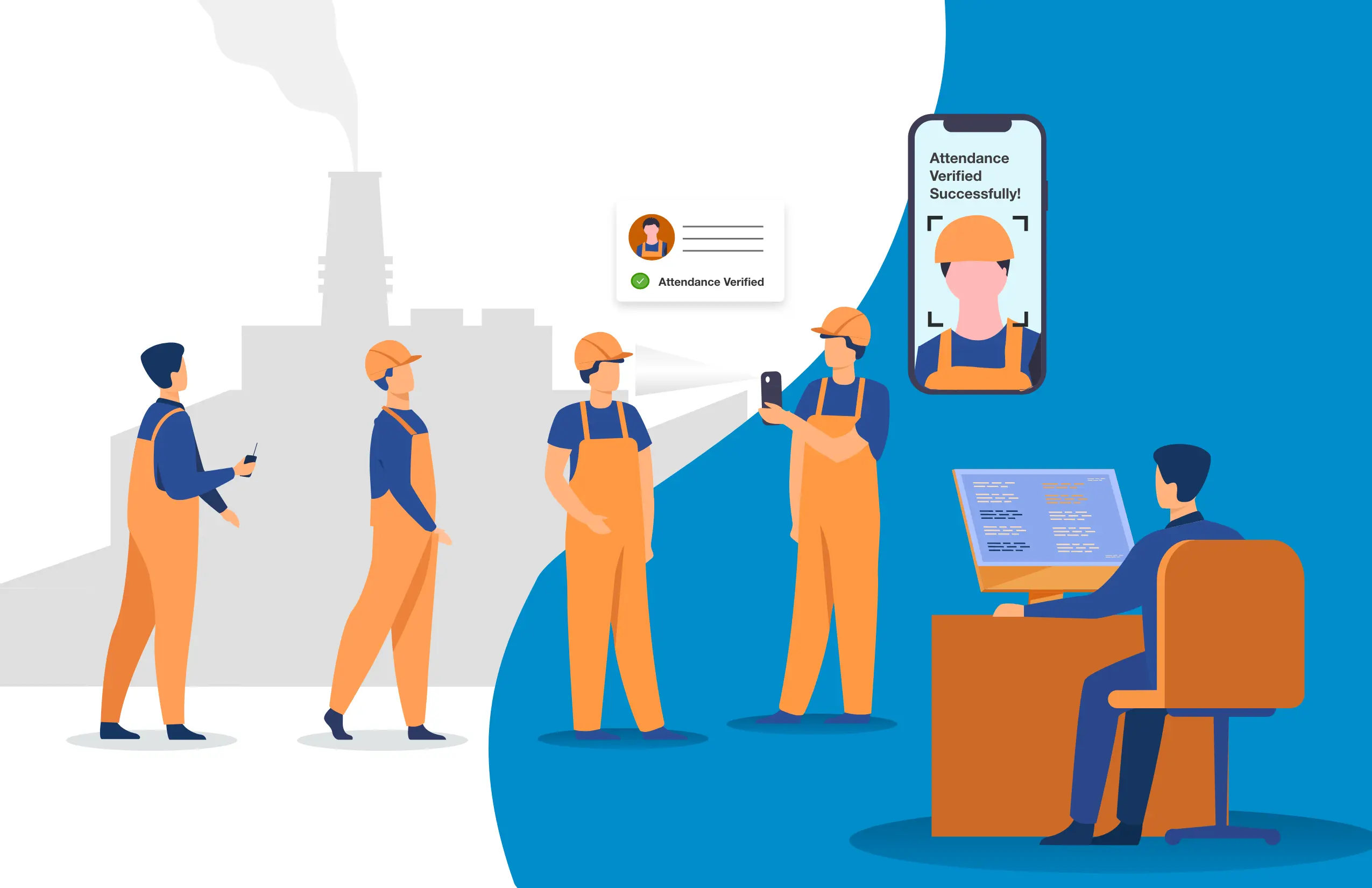 7 Benefits Of Touch Free Facial Attendance For Businesses
"Occupational safety and health is vital to the dignity of work". True to the real meaning of this saying, post-pandemic people have taken safety and hygiene more seriously. An employee's health should be given priority at work. Starting from the attendance system to maintaining social distancing in common places, everything should be planned with keeping employee safety in mind. To avoid contamination, we should encourage the use of facial recognition attendance systems instead of unhygienic practices like fingerprints / ID card sensors based attendance systems.
The demand for these systems has been rising steadily in recent years. In 2019, the market size for facial recognition technology was $3.2 billion. It is projected to reach $8.5 billion by 2025, as per studies conducted by Markets and Markets, in 2020. This clearly shows that businesses are showing interest in providing a touch free attendance system using facial recognition. Let's discuss in detail about how these systems help businesses in various ways.
How Does Facial Recognition Attendance System Work?
The facial recognition attendance system follows a 4-step process:
Capture – The system captures a user's face with the device's camera by a 3D image capturing technology.
Extract – It extracts the unique pattern of the user from the image sample and stores that pattern in the database.
Compare – When a user attempts to log in, the system compares the pattern with the existing patterns in the database.
Match/Identify – Once it finds the pattern matching, the user is logged in successfully.
All these steps take only a fraction of a second to complete. Quick processing and accuracy are the biggest advantages of these facial time attendance systems.
7 Benefits Of Facial Attendance For Businesses
A facial recognition attendance system focuses not only on the attendance but also on the various processes associated with it like payroll, analytics, and reports through easy integration with various systems. Here are some of the benefits in detail:
Improved Employee Safety & Productivity
Touch free attendance is a boon for employee safety. It is a hygienic method that is the need of the hour. Any other method that involves contact with all the employees like ID cards, or fingerprint sensors is dangerous and is uninstalled by various organizations. Whereas, facial attendance addressing employee safety is gaining its popularity. Common laborers and industrial workers who don't understand the complex attendance methods, find these systems quite easy. As they process the attendance quickly, employees can log in easily and move on with their daily tasks. Also, as the employee's health is safeguarded by these touch free attendance systems, sick leaves might get reduced and their productivity is improved too.
Easy & Low Cost Installation
Most of the facial recognition attendance systems can run on a mobile device/tablet. No extra hardware installation is required and hence cost-saving. Any mobile device can be converted into an attendance system with facial recognition apps and can be used by your entire workforce. It can be either installed on the work premises or can be used on the go. Lystface facial recognition attendance app provides location based attendance feature which is an excellent way to keep track of your employee attendance with location and timestamp details.
No Buddy Punching And Long Breaks
Buddy punching is the biggest challenge many businesses face. Facial time attendance systems totally eradicate this problem and also reduces the unnecessary long breaks and idle times taken by employees. A 3D image capturing technology captures every tiny detail of the face and extracts the unique pattern accurately. Hence, there is no chance for any kind of unfair practices.
Reports say that by eliminating buddy punching, a business can save a minimum of 2% of gross annual payroll. It is a notable benefit to consider AI visible light facial recognition time attendance system for your business.
Real Time Attendance & Shift Management
Location based live attendance marking is another important benefit of facial attendance systems. By this, you would be able to know the exact location and time of logins & logouts which are helpful to create accurate attendance reports. Also, if your employees are working in multiple shifts, allocation of rotational shifts and managing the timings, geofence option to restrict the sign in within a particular radius, etc can also be controlled using these systems. Incentives for working extra hours can also be calculated accurately. This improves the accountability of your employees and thus results in business growth.
Helps In Payroll Processing
Processing payroll for all your employees may be overwhelming at times, especially when attendance is marked by less accurate methods. Facial recognition attendance systems give you accurate attendance reports with login/logout times, total. no.of working hours, etc. Also, they can be integrated with your existing HRMS easily thus making payroll processing easier. Hence, it saves a lot of time and energy for you.
High Flexibility
Flexibility and scalability to adapt to the changing/growing needs of a business are the one quality all businesses look for. Attendance systems using facial recognition tick the box as you can add or remove users easily. Depending on the needs, the system features can be customized and upgraded. Lystface follows a SaaS based subscription model which has affordable pricing plans making it more easier for a business to choose from.
Accurate, Hassle-Free Experience
Improving the employee experience and taking care of the employee wellness will make your employees stay motivated at work. Providing a hassle free attendance experience is one of the ways for it. On the other hand, as facial recognition time and attendance systems are accurate, they save excess labor costs while using error prone manual methods. Ideal for industry workers and daily wagers for whom the wages are calculated based on the exact working hours.
Key Takeaways
The shift in the attendance systems towards having a safe, secure, and accurate attendance method comes true with a facial recognition attendance system. Keeping track of the exact working hours will cut down all the excessive costs. A foolproof method that holds the credibility of the attendance indeed. Choose the Lystface facial attendance for your business productivity. It has features like real-time attendance, analytics, and reports, integration with the payroll system, geo fence options, etc.
Lystface can also be used as a door access control to allow restricted access to important areas like inventories and other such places where important documents and files are stored. As a business owner, when you have a trustworthy attendance system that improves the transparency of payroll calculations, gives a secure and touch free experience for employees, and all the other benefits we discussed, then you must go for it without a second thought.