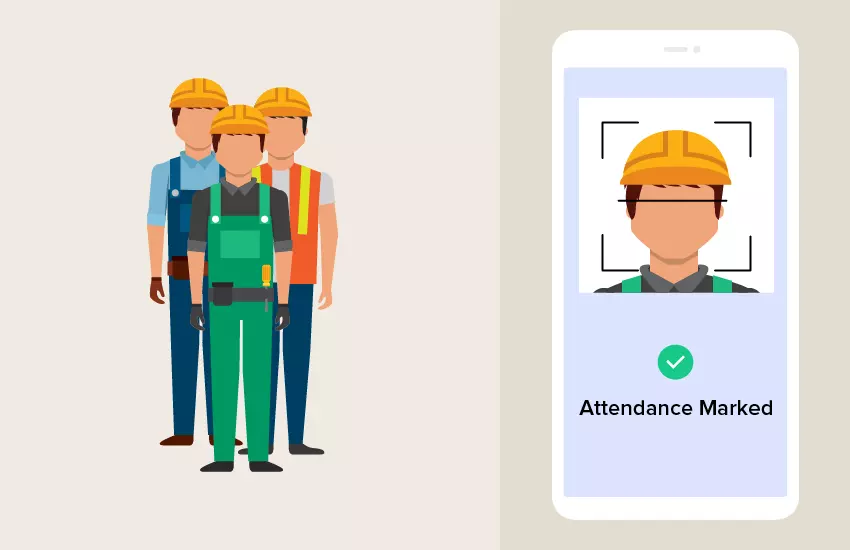 Lystface Location-Based Facial Attendance Management For Industrial workers
Regardless of what the size or business is, attendance tracking is essential for all companies. Since attendance is directly related to certain other HR aspects like payroll, leave, etc., the management must precisely track and record employee attendance. Over a brief period, the employee attendance management system witnessed a considerable transformation. Technology has completely changed how companies control the timings of their employees' work hours, moving away from manual registers and forwarding towards sophisticated smart attendance tracking systems.
Following location tracking and geo-fencing, facial recognition is the next-level attendance tracking system that is widely recognized worldwide. The facial recognition employee attendance system is becoming a widespread means of tracking attendance in all key industries. It has evolved into one of the most efficient ways of tracking Industrial workers attendance across all businesses.
Recently in Lystloc, to make employee attendance tracking more simple and easy we have updated this new technology of facial recognition in our location-based workforce attendance management solution.
What Is Lystface Facial Attendance Management?
Lystface is a location-based facial recognition attendance management solution that works in real time. It works on any mobile device and does not require any special hardware. Lystface is an excellent attendance management solution for desk and Industrial workers. Because it meets the most desired payroll management system needs with contactless attendance marking, it is a one-stop solution for your employee attendance management-related difficulties.
Lystface is a sophisticated, automated, and intelligent location-based attendance management system that can recognize an employee based on facial traits. This is the greatest solution for payroll automation and attendance management depending on location. Furthermore, Lystface offers you automated e-reports on attendance that include the information needed to evaluate employee productivity and efficiency. This employee attendance feature is a swift and trustworthy technology. The facial recognition software is extremely safe since it can accurately identify employees without any error.
Why Is It Important To Have Lystface For Your Industrial workers ?
This designed management solution seeks to provide an automated procedure that uses facial recognition technology to record employee attendance as well as their location and time, as opposed to the regular traditional ways. The major goal of the Lystface technology is to make the system for tracking employee attendance effective, quick, easy, and simple. The workload of managers and HRs is decreased by using this feature as compared to currently used conventional methods of recording employee attendance.
Second, reducing physical contact with public spaces and workplaces can help manage pandemics like Covid 19. The demand for and use of contactless employee attendance management technology have significantly increased since the outbreak. The use of a location-based and time clock attendance management system like Lystface, as well as the advantages of facial recognition attendance solutions, have been acknowledged by the industry. Workplaces and Industrial workers can significantly lessen the frequency of human interaction by using Lystface, hence lowering the danger of virus transmission.
How Does Lystface Works?
Generally, two types of employees work in any business organization and government department, in-office and field workers. Only Lystface employee attendance management offers a platform that can cover both these workforces through the same design framework. Lystface facial recognition attendance software can be installed at the workplace or connected to field employees' smart mobile devices through the cloud network. Using facial recognition to record employee attendance is quick and safe. It is a face-scanning-based biometric identification technique.
In this case, employee faces will be recognized using advanced facial recognition algorithms. Employees' facial characteristics are captured by the tool, which then inputs the data into a protected database. A face reference structure is created using the saved and mapped scanned images. Following a comparison of the processed image and the previously stored record, the software will record employee attendance along with their location and attendance marking time as necessary. The Lystface software can be installed on any android device, and it accurately scans an employee's face. Once set up, the system recognizes the correlating face for all upcoming attendance check-ins.
Benefits Of Lystface For Industrial workers Attendance Management
Real-Time Employee Attendance Tracking – Tracking attendance of distributed Industrial workforce in real-time along with their current location and time with efficiency.
Integrated Seamlessly With The System – With several other HR systems like payroll and leave, Lystface's attendance management solution can be effortlessly integrated. It can scale up pretty quickly and process a significant number of facial IDs in the database in an efficient and comprehensive manner.
Enhanced Security And Safety – The greater reliability and safety of the Lystface employee attendance management software is one of its main benefits. When this facial recognition technology is implemented throughout a business's premises, it assists in identifying authorized employees and grants only them protected access.
Accurate And Errorless – Lystface facial recognition attendance feature can lessen anomalies like buddy punching and give accurate data with little manual intervention.
Automated Reports – The location based attendance management can monitor Industrial workers log-in and log-out time, compute attendance-based payroll, check the absentee list, take required measures, and obtain employee performance data with extensive automated e-reporting capabilities.
Cost-Effective With High-Speed Facial Recognition – A pocket friendly option that is simple to install into any smart device is the Lystface facial recognition attendance management software. The solution is very effective because of its high-speed scanning capability, which can identify employee faces in seconds.
Bottom Line
Automated attendance systems with facial recognition are advanced utilities that are necessary especially in this post-pandemic period. These solutions improve employee attendance tracking while lowering costs. A system like this also provides an additional layer of security to the workspace. The greatest modern solution for tracking employee work hours and salary administration is facial recognition attendance systems. If your company is still using a conventional employee attendance system, it's time to switch to a facial recognition employee attendance solution like Lystface.
Lystface, a brand-new location-based facial attendance management solution, was just released by Lystloc. It is a safe, sophisticated, and precise attendance management system for companies to guarantee touchless admission to the workspace as well as for the Industrial workers outside of the office. This functionality was specifically created to assist businesses in maintaining safe workplaces. You can now try out our Lystface solution if you're searching for something more sophisticated and convenient for tracking staff attendance.