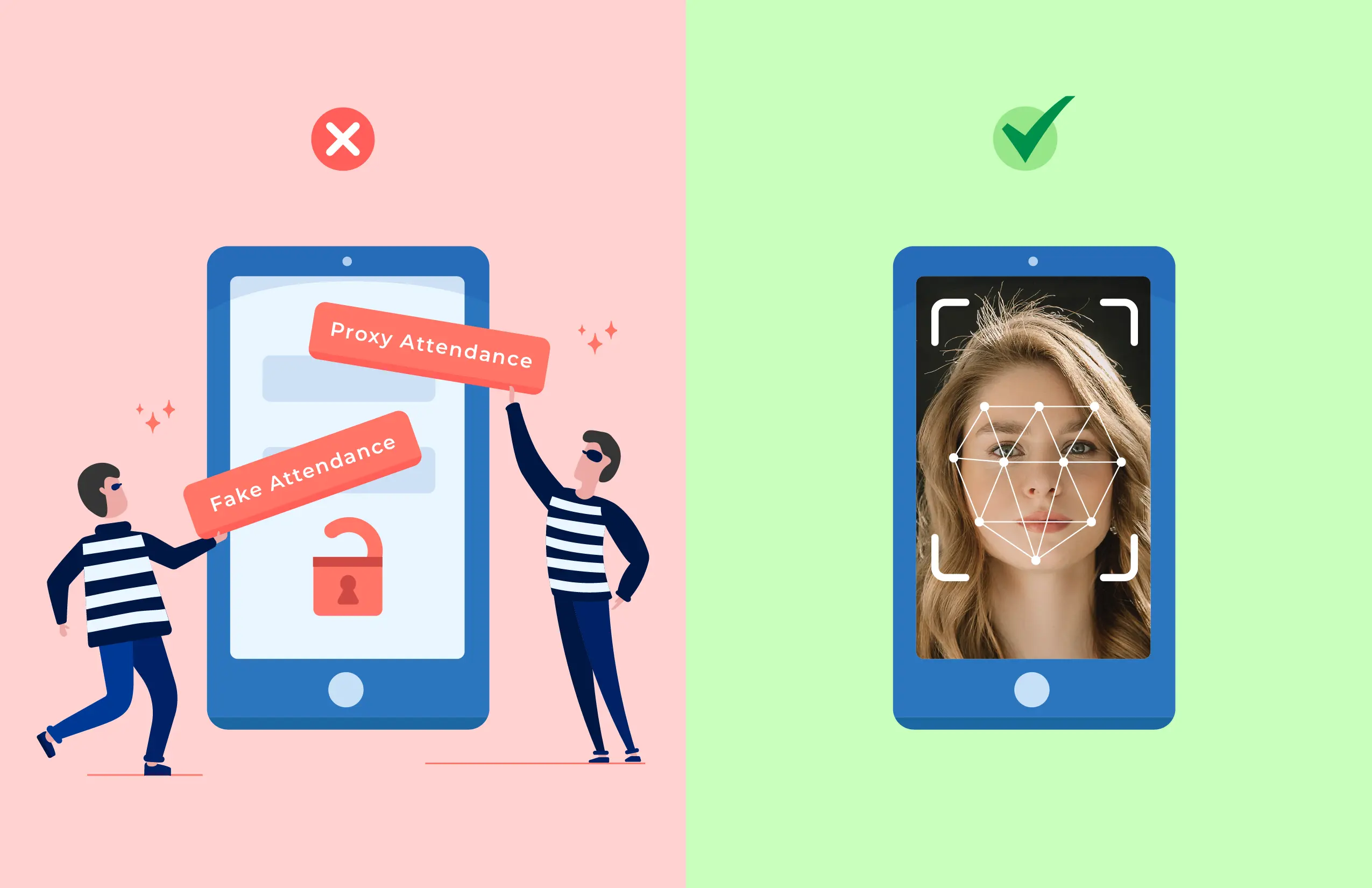 How To Avoid Proxy Or Fake Attendance From Employees
The maintenance of attendance is an essential part of every organization or business. For the HR managers, any inconsistency in the documented attendance records can be frustrating and draining, adding to their workload stress.
Buddy punching, also known as proxy attendance or fake attendance, is the most difficult problem for many companies to deal with out of all the factors that might affect attendance management. Moreover, the usage of traditional attendance systems such as scanning ID cards and fingerprint attendance systems results in proxy attendance, which ultimately delays the payment process.
Inaccurate employee attendance tracking might cause a company to experience an unanticipated financial loss.
Facial recognition attendance systems were developed as a result of technological advancement, which recognized the agony that businesses were experiencing as a result of inappropriate employee attendance management.
What Is A Facial Recognition Attendance System?
A facial recognition attendance system leverages face analysis technology to automatically record employee attendance while recognizing and validating a person on the basis of their facial characteristics. A digital camera or mobile is used to capture the facial image, the software is used for analysis and processing, and an output module is used to show the verification outcome. Any employee can easily be recognized from various facial images.
The facial recognition system is a speedy and efficient technological innovation. Because it can accurately identify employees, this biometric is incredibly safe. Facial recognition is regarded as the first step in developing biometric access authority application cases, in which the employees' physical traits are captured. Several businesses, banks, government agencies, and other institutions use this technology.
The crucial element in these systems is the data's accuracy. Because the monitoring is conducted in real, results from attendance tracking using face recognition are more precise and error-free.
How Does The Facial Recognition Attendance System Help In Employee Proxy Or Fake Attendance Monitoring?
The issue of proxy or fake attendance is resolved by using this AI-based facial recognition and verification attendance system. Considering that it can recognize faces within a fraction of a second with 100% accuracy.
Face identification-based attendance tracking systems are exceedingly hard to trick because of their great precision. If an employee tries to register a proxy attendance this way, the system won't recognize them because it can identify the distinction between a photo and a real face. Despite the fact that an employee dons new glasses, grows a beard, or sustains a facial injury, the AI program can still match it to the facial characteristics already stored in the system and register their attendance.
Facial recognition attendance systems enable fully automated entry and exit tracking. Without requiring human intervention or physical confirmation, the system's sophisticated algorithms can find and identify faces. Facial recognition technology makes it easy to monitor the working hours of employees. A facial recognition attendance system can be used to accurately track each employee's presence, overtime, and absence. Because of this, it is impossible to commit theft through proxy or fake attendance by scanning others' ID cards or entering on someone else's behalf.
5 Best Features Of A Facial Recognition Attendance System
Fast And Easy Deployment
The facial recognition attendance system is an easy-to-use software that can be quickly deployed anywhere. It's not hardware-reliant and only needs a mobile or standby camera as a basic essential. A facial recognition attendance tracking system is the best choice for businesses if they require a swift and simple attendance option that is also touchless.
Touchless And Safe
During outbreaks like Covid 19, physical encounters should be minimized as much as possible in order to properly manage public areas and workplaces. In the wake of the epidemic, contactless technologies have become more widely adopted and used. Of course, one of the distinctive qualities of a touchless facial recognition attendance system is that it is safe and hygienic.
Scalability And Flexibility
Facial recognition software can be used in accordance with the requirements of the workplace. With this tool, companies have the most freedom because they can choose the system based on their needs and it can be simply customized. There is no additional configuration necessary. The total number of individuals whose attendance information we want the facial recognition system to capture is unlimited.
Easy Integration
Payroll software can be integrated into facial recognition attendance systems to monitor employee work hours and determine salary. As these systems are adjustable and flexible, one can change the way timelines and dates are organized to make them compatible with the other platforms in the business.
Cost Effective
Human intervention is minimal because the entire procedure has been automated. So, there is no need for support staff to carry out this work manually. A facial recognition attendance system does not require any additional technology to be installed, thus there are no ongoing maintenance expenditures. Comparing this solution to other biometric ones, it is both economical and effective.
3 Best Facial Recognition Attendance Tracking Software
Lystface
Lystface is a facial recognition attendance management solution that works in real-time. This is the greatest solution for payroll automation and attendance management depending on location.
Lystface app is designed with the motive of helping common laborers to use an automated attendance system so that the business will be able to record and maintain error-free, accurate employee records. Furthermore, Lystface offers you automated e-reports on attendance that include the information needed to evaluate employee productivity and efficiency. This employee attendance feature is a swift and trustworthy technology.
Face Attendance
The mobile-based touchless face recognition attendance app with location monitoring is free to use with no limitations on device-level functionality or workforce count. The Face Attendance app runs on all android smartphones and tablets. It keeps data on devices and also offers web or cloud integration to store data, which can then be seen on any browser supporting any version of windows. The best feature of the Face Attendance app is the ability to identify an employee from a distance in a well-lit setting.
Facetek
The Facetek mobile face attendance app is a cloud-based contactless attendance system solution. Because it is cloud-based, all employee attendance data is securely kept and there is little chance of intrusion. Facetek facial recognition attendance app tracks employee attendance by facial scanning or smartphone to define their geolocation. The app employs face detection and GPS technology to confirm whether attendance is recorded at the approved location while eliminating the chance of buddy punching.
Summing Up
An early ID card punching and fingerprint attendance tracking system was created to keep track of employee hours worked and attendance. They are obviously far more effective than manual paper-based records and documentation. These systems, however, had drawbacks and presented problems, such as the ability to record a proxy or fake attendance for employees who weren't present. Systems continued to advance along with technological advancement.
The facial recognition attendance system reduces expenses while offering reliable employee attendance tracking. A system like this helps in buddy punching and fake attendance monitoring while simultaneously enhancing workplace security. It's time to update to a facial recognition attendance system if your company is still constrained by a manual or fingerprint-based attendance system.