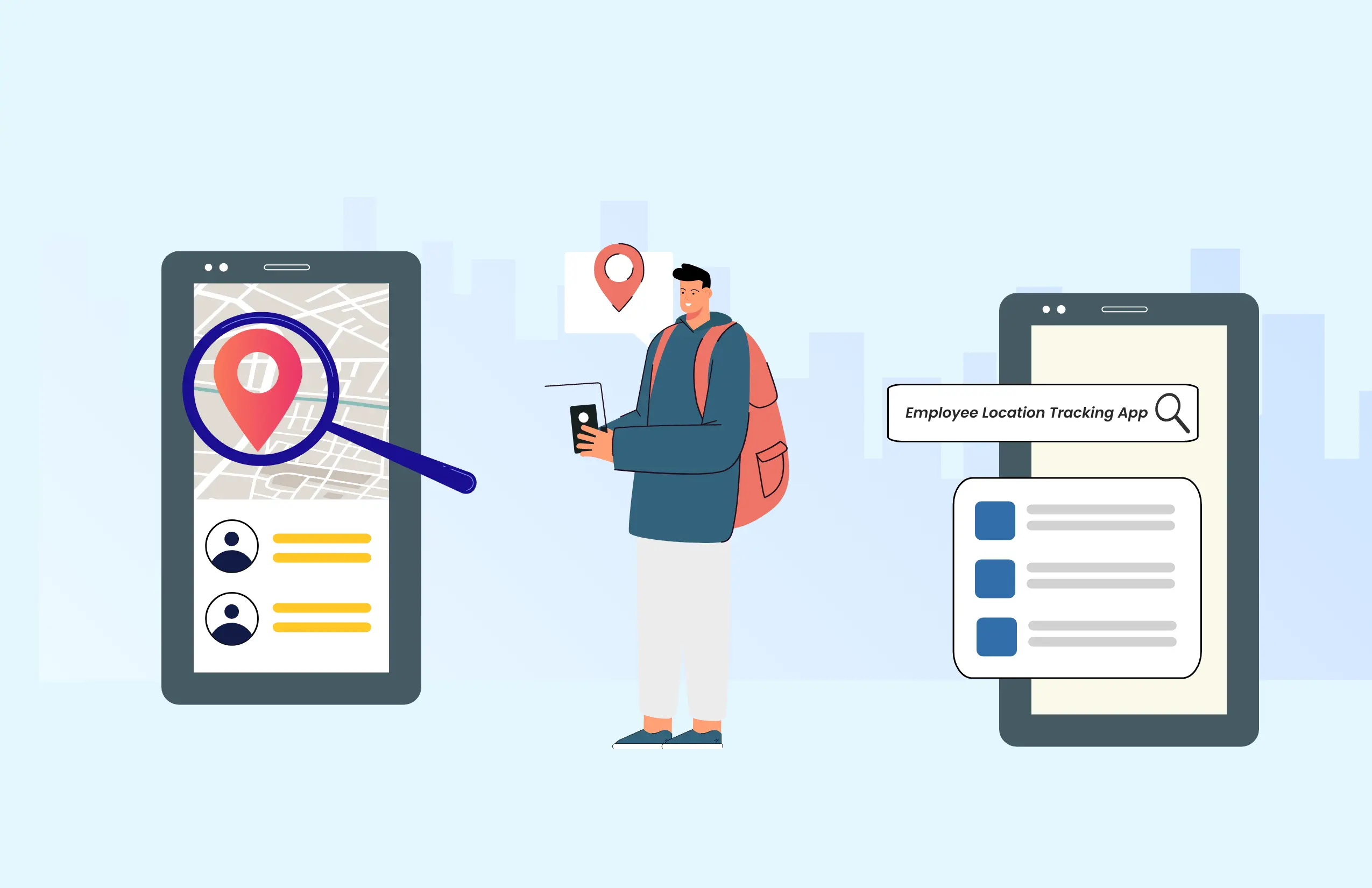 How To Choose The Best Employee Location Tracking App
Being a business owner means you can't be everywhere all at once, particularly when your employees are spread across numerous work locations. You nevertheless need to be aware of the locations and current situation of your employees.
The decision ought to be clear to any business owner with employees in the field. Businesses may keep tabs on how employees move across locations throughout the day as well as how long they spend at each place by using employee location tracking apps. This makes room for better planning, greater production, and business expansion.
Finding the best employee location tracking app that meets your requirements might be challenging with so many options available. We can be of help here. The top 8 features that every employee location tracking app on the market today should have been outlined in the list below.
What Is An Employee Location Tracking App?
Companies can track employees in the field with the aid of an employee location-tracking app. Several apps provide real-time employee location data so that business owners and managers remain constantly aware of the whereabouts of their staff members.
Others employ location tracking to make sure that workers reliably clock in and out of workplaces. Using technology-driven software programs, the employee location tracking app tracks and monitors employees who are working in the field to get accurate data. The app assists the manager in finding the current location of the employee, their routes travelled, etc on a time-to-time basis.
Why Is It Important To Employ Employee Location Tracking App In Business?
Maintaining track of the whereabouts of your field staff is one of the crucial factors to take into account when using an employee location tracking tool. Particularly if the organization's operations primarily involve field forces. In the midst of fieldwork, employees routinely waste time somewhere else.
Utilizing real-time geographically based service applications, you may locate your field staff in real-time. With the help of the location tracking tool, you can work out the route that your field personnel traveled, how long it took them to get there, how much time they stayed meeting the client, and what time they are available to start working on their next task.
Through the app, the company is able to track employees' travel patterns in real time for their security. If anything were to happen to an employee, periodic checks would be made on the employee location tracking app to see what was going on and whether an urgent situation existed.
A real-time location tracking tool helps managers make more informed judgments and more efficient delivery arrangements. Any integrated route optimization tools also guarantee that field workers and their vehicles follow the best paths. Delivery planning and route optimization are essential for minimizing vehicle downtime.
How To Choose Tracking Software? – Top 8 Features Every Employee Location Tracking App Should Have
Real-time Updates
Time is money in the lightning-fast world we live in right now, so it's crucial to maximize employee efficiency. It's possible to completely remove the chance of inefficiency by implementing an employee location tracking app since you will receive real-time updates on your employees' locations. You will be able to exert power over them as a result of this. It's important to consider if live tracking features are offered when choosing an employee tracking app.
Many employee tracking applications use geo location and Google Maps to provide reliable information about the whereabouts of the employees, while some of these apps even have the ability to take geo-tagged images for confirmation.
Geo-fencing Attribute
In essence, geofencing is a method that allows staff members to clock in during their work time from other locations. When they aren't in one of the locations that are within the geofencing perimeter, nevertheless, prevent them from entering their work.
Employees of one company, for instance, are permitted to operate from either their residence or their place of work. Therefore, individuals cannot use geofencing to clock in if they don't happen to be at either of the two places at the time of their work hours. Additionally, if any of your employees choose to work remotely from a restaurant or cafe rather than coming into the workplace on a regular basis, that location can be geofenced so they can clock in at the appropriate time.
Easy Data Insights & Reporting
Managers can generate complete reports of employees with just one click by using the functions of employee location tracking apps. There is a tracking system, which offers fundamental data. Then there are some who have extensive information.
The most beneficial app or software to use is one that offers attendance, updates, task status, user status, automated expense management, and accurate reporting. The best ones contain a feature that allows reports to be tailored to the needs of the customer as a whole. Businesses can decide whether or not they want to increase their employment according to the efficiency and productivity of their current staff by using real-time data.
Extensive Integration Capability
We are all conscious that businesses have a wide variety of apps available to them. Hence, you should pick a tracking solution that integrates with other software quickly and simply, with little effort on your part. You can save time and money by doing this. It must be compatible with other applications that your business currently employs.
Silos will be eliminated, and simplified processes will be achieved. Consequently, you should only invest in an employee location-tracking app that has outstanding essential features. Otherwise, you can eventually incur costs for aligning all of your company's software with the monitoring system.
App Security & Safety
Every organization has worries about entrusting an entirely novel system with employee information, particularly when it comes to sensitive or accounting information. Any employee location tracking app gathers a tonne of data about the whereabouts of the employee vehicle and the specifics of each day's commute.
This, combined with the substantial amount of private information supplied into the program, makes it highly sensitive and demands total secrecy. It is crucial to assess the application's level of safety as an outcome. During this entire process, check the vendor's degree of encryption of data. Even if all of the connected devices and apps are somewhat at risk, it is crucial to make sure the app you select complies with all data security standards.
User-Friendly App Module
The employee location tracking app should be simple and easy to use, regardless of whether it provides only the essential capabilities or extras. The primary objective of employee tracking software is to help you maintain track of location and time, but if you have to invest hours figuring out how to use the application and all of its capabilities, you won't be able to achieve that.
The number of clicks necessary to activate a feature should be minimal. Make sure to test any potential location tracking software before deciding whether to use it, as well as whether your staff finds it easy to use and feels at peace doing so.
Cost Effective- Within The Budget
Remember that you don't need to spend a lot of money on a great solution, despite the fact your budget will determine the application you pick. Other businesses set a fixed monthly or yearly fee, while others base their costs on the number of customers, and others even provide customized pricing.
A free tracking app, which provides all of its capabilities without charge for a limitless amount of users and workplaces, constitutes the final type of software. It's critical to examine the price of tracking software, but you also need to account for the money you will save by using it.
Intuitive And Flexible Dashboard
On a dashboard, you can view everything at once. Everyone is drawn to a dashboard that is easy to use. A packed dashboard is difficult to handle regardless of the app you're using because you'll miss most of the important information. It is crucial to look out for this feature when choosing an employee location tracking app; a dashboard must precisely store all the information about the map so you can easily traverse the website. When everything is simple to observe and keep track of, users will adore the employee monitoring software. Consequently, a versatile dashboard is a requirement.
Wrapping Up
Monitoring the location of your employees is crucial for everyday business activities. An effective tool for a business to streamline processes and boost efficiency across the board is employee location tracking apps. Managers and owners of businesses can oversee various teams at different places without wasting time on job sites or agonizing over scheduling, giving them more time to concentrate on what really matters—growing their company.
When choosing location-tracking software for your employees, it's critical to consider your business demands. Regardless of the nature of your company, it's crucial to choose a solution that includes a number of crucial characteristics to make your daily activities easier. Some aspects could turn out to be more valuable than others in the course of your business.