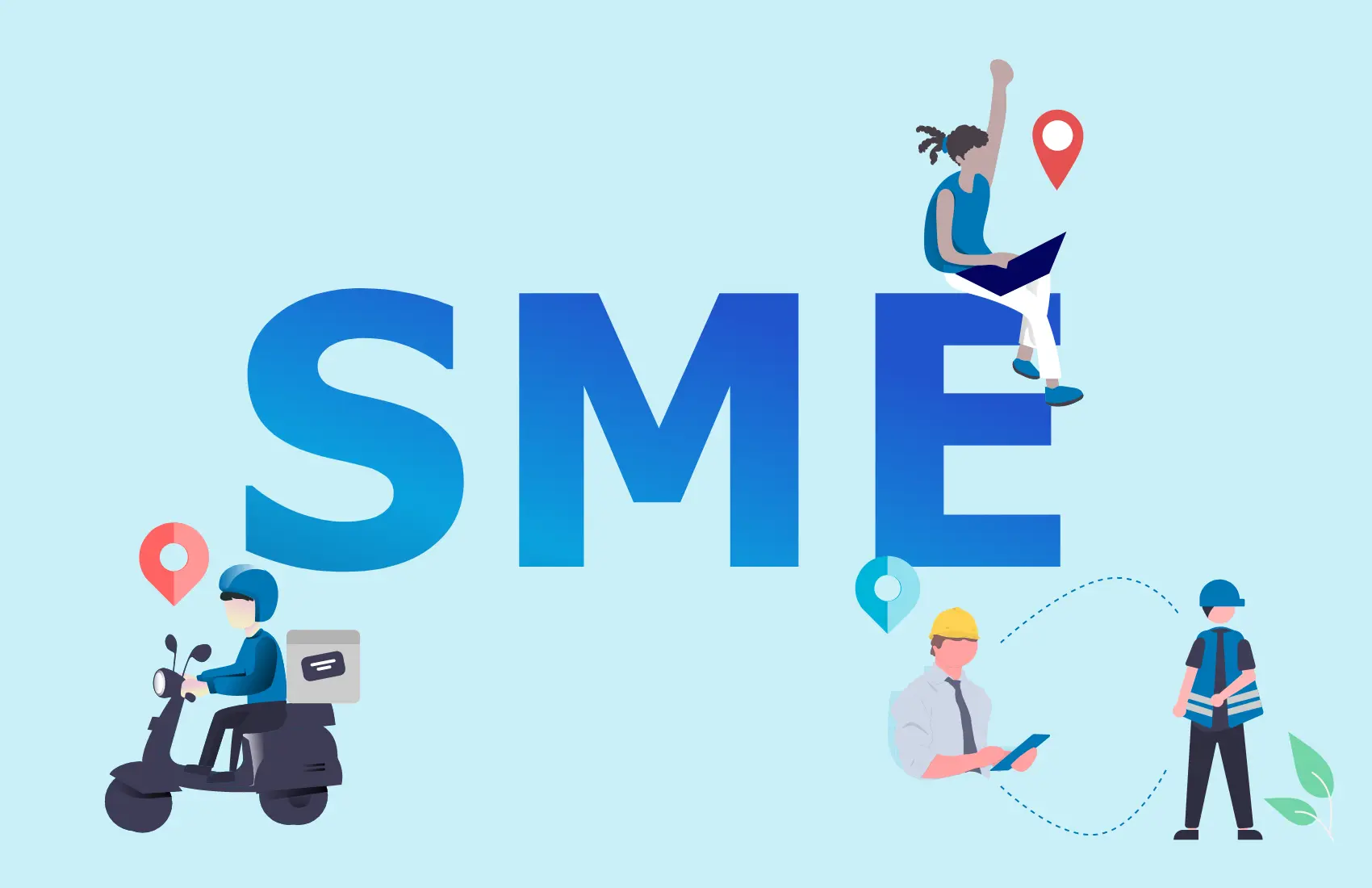 How Will Lystloc Be The Best Option For SMEs To Manage Their Field Employees?
It is critical for SMEs to optimize all of their business processes. This ensures that they get the most bang for their buck. You've probably heard the proverb "time is money," and it couldn't be more true for a small business owner. They have many things to do being a developing organization from growing their business to monitoring their field employee productivity. When talking about field employee productivity, there are many problems faced by the SMEs, a few of them are:
Attendance management of on-field employees.
Tracking the current location of the field employees.
Difficulty in assigning new tasks to them.
Trouble in giving the exact fuel allowance.
With new technology and innovation, many softwares and apps are available for small business owners to use for their own benefit. Many businesses benefit from technologies such as apps that track and manage field employees and provide field force management ability. One such amazing and technologically more upgraded field force management software that helps SMEs in overcoming these challenges is our Lystloc app.
Lystloc is a field employee monitoring app for tracking and managing field employees' locations and day-to-day activities. The app allows you to monitor real-time employee activity, enabling you to check on field employees without interrupting them.
Why Lystloc Will Be The Best Choice For SMEs?
Tracking Work Location Of Field Employees Becomes Easy
The app serves as an employee location tracking software, allowing managers to cross-check the location of their field employees. One of the most useful and popular features of Lystloc is the ability to track the field employee's location and tasks. It promotes greater precision and transparency in the business which is especially important in the growing SMEs.
With the Lystloc app, SMEs can easily and accurately track their field employees' work location, meeting location, travel mapping, distance travelled, and so on. On the whole, Lystloc allows managers to pinpoint the exact location of field employees and assess their productivity.
Managers can locate and assign the nearest field employee to the client location in order to avoid heavy traffic on their work if a client has an urgent request. This increases customer satisfaction and trust. As a result, satisfied customers are critical to the success of a business and a key factor for the outgrowth of a company.
Perfect Solution For SMEs Reimbursement Management Challenges
Travel reimbursement can be overlooked by SMEs at times, possibly because it used to be a particularly time-consuming task for many. However, if the process is made simple and easy, it can save time and resources for both employees and managers as a whole.
To make travel reimbursement simple and straightforward for SMEs, Lystloc has digitally automated the travel reimbursement process. Since it has become the most popular way for SMEs to handle their field employees' daily travel allowances, which was previously the most difficult manual process for them.
Field employees can use this feature of the Lystloc app to digitally submit their travel expense receipts and request reimbursement. On the other hand, managers can use this feature to view their employees' reimbursement requests, check the expense receipts they've added, and approve or deny them directly from the app. Instead of performing the procedure manually, we have made it easier for you with the Lystloc app. Also, fuel reimbursement can be automatically calculated based on the pre-set rates per km that are integrated with the reimbursement feature as a default setting.
Field Employee Attendance Marking- Grounded On Location Intelligence
With a large number of employees working on-field, managing attendance can be a difficult task for many SMEs. Lystloc app can easily assist managers, in maintaining field employee attendance records. The app makes it simple to track field employees' attendance and allows them to clock in and clock out from anywhere without interfering with their work.
The on-field employees can mark their attendance through a single touch authentication from anywhere during their office hours directly from their fieldwork location rather than traveling to the office location. Using this app feature, managers can keep a check on employees' leaves, and permissions in a more sophisticated way.
There is also an option for Geofence attendance in the Lystloc app, it is nothing but real-time virtual perimeters built using the latitude, longitude, and radius of a vast location. Employees can mark attendance only when they are within the specified area perimeter, only when this option is opted for by the managers. Also, Lystloc records systemizing details such as total check-in time, total work time, total travel time, total hours of work, and much more once the employee has logged in to the app simultaneously along with attendance marking.

Quick Updates On Field Employees' Client Meetings And Tasks
Along with attendance marking, field employees' can also opt to mark their daily meeting's with their clients through Check-in/out. Once, the field employee has reached the meeting location they can Check-in so that it is possible for the sales managers to know their accurate meeting location and timings. And after the meeting is over, they can Check-out with a meeting note filled with the end results of the meeting and other main pieces of information.
Needless to say, the main purpose of the Lystloc app is to allow employees to clock in and out easily on meetings and keep a record of their work progress without any error. An app platform that bestows SMEs with the ability to assign location-based tasks to on-field employees comfortably without wasting time making 'n' a number of calls to them.
In the application dashboard itself, managers can list out the daily tasks that the sales employees do in a day. And also managers can know about the task location and time with the employee's check-in/out marking from the current task location. Option to trace exactly which tasks are started, in progress, and done with by the employees. Prioritizing tasks based on the level of urgency and dependability.
Regular Sales Reporting With Real-Time Insights
In concern with SMEs, data insights and reporting are essential in increasing the visibility of the business operations, and being able to collect data is especially important for field sales businesses. Lystloc acquires and provides data on daily sales, meetings attended including data on deliveries and services provided by each field employee in real-time.
The best feature of the Lystloc app is that it allows field employees to enter their daily meeting output and progress toward reaching their sales goals. Employees have a fair chance to reflect on their achieved targets in their work and get what they deserve because of the feature of regular sales reporting. They can get fair pay for their jobs finished and hours clocked with the help of Lystloc. The app also ensures the best features for the field employees' enhanced data security and organized data reports.
For your convenience, we in Lystloc also furnish you with other unique attributes like live tracking reports, customizable reports, different time span reports like daily, weekly, monthly, and much more. With this automated report generation, it will be easy for SMEs to keep record of each and every work their field employees do and it also saves time and energy.
Benefits Of Choosing Lystloc As Your Field Employee Management App
More Revenue: Lystloc assists SMEs in streamlining their daily tracking and monitoring of on-field sales employees. So they can focus on other high-priority tasks that can even double their daily sales, resulting in more income for the business.
Improved Performance And Better Decision Making: Lystloc enables efficient data capture and sharing, which improves communication and collaboration within teams. This data is extremely useful for SMEs in reviewing team efficiency and effectiveness and implementing necessary improvement measures on time.
Increased flexibility: Adding flexibility to the field workforce is unquestionably worthwhile in terms of both time and money. Lystloc is built with advanced technology that allows for integration with advanced computer systems. Every stage, from the customer meeting to after-sales service, is recorded and tracked for proper sales management and better customer relationship management.
Increased Productivity and Employee Engagement: Field employees have also taken full advantage of our Lystloc app. Internally within an organization, there has been an increase in the timely execution and completion of tasks, resulting in increased productivity and significant time savings that would otherwise have been invested in these tasks.
Customer Satisfaction Is High: You will serve the customer well and win them over if you provide services that address their specific needs. Lystloc has made it much easier to manage meetings and better serve customers. Exceeding customer expectations is how a business thrives, resulting in satisfied customers who might become loyal customers in the long term. This would also help the company make a positive reputation and attract more customers.
Summing Up
The use of the Lystloc app by SMEs can significantly improve their field productivity while saving them a major amount of time and effort spent on their field employee management. Lystloc app is efficient in its operation, is simple to use and manage, and serves as a solution for field-related issues such as field attendance marking, client meeting updates, follow-ups, daily field reporting, note-taking, and much more. Lystloc automates repetitive, traditional manual tasks, allowing SMEs and their field workforce team to focus more on closing sales and generating revenue.
If you're on the lookout for a perfect and complete pack of field force management software for your SMEs with all the above-listed features and a one-stop solution for all field work-related difficulties you can check out Lystloc.