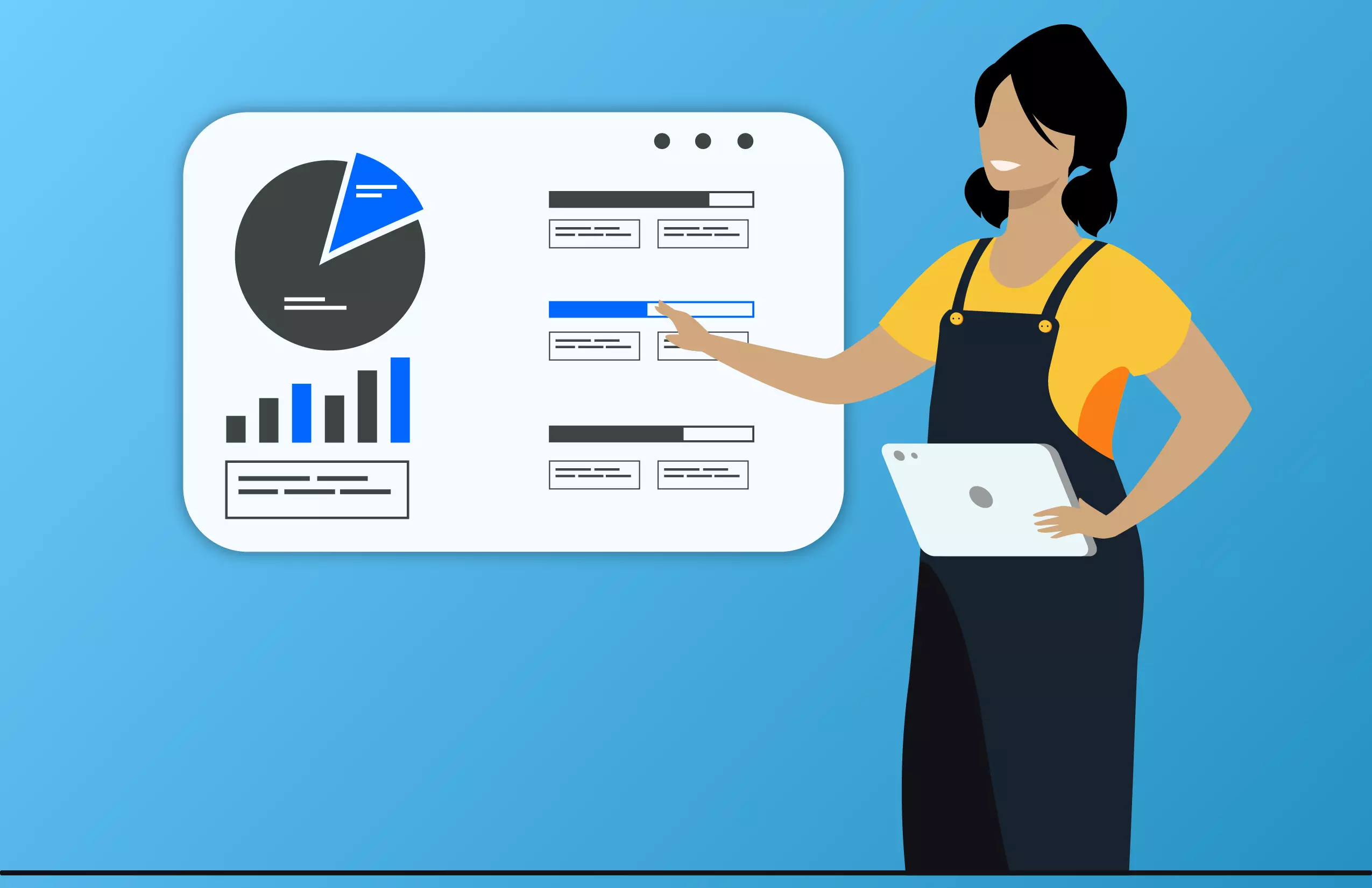 How Lystloc's Location Hierarchy Helps Its Unicorn Customer In Managing Their Field Workers Efficiently And Productively
The largest B2B company was facing a significant challenge in managing and tracking their field employees' attendance, and working hours and needed a solution that would automate the process and ensure accuracy. Learn how Lystloc helped a client in the fieldwork industry optimize their workforce management through the implementation of their field force management features. How it empowers managers to be more effective in supporting their field employees while maintaining productivity and increasing workforce efficiency.
What Was The Main Difficulty Faced By The Customer In Managing Their Field Employees?
As you can see the customer is a B2B company that primarily relies on employees who work outside the workplace on the field mainly across different tollgate locations. So, it is obvious that their primary concern would be managing and supervising their large group of field workers in tollgates. They had a tough time tracking their tollgate worker's daily location-based attendance, work hours if they reached their work locations on time or if there were any delays, difficulty in managing the location-based attendance and work hours records manually, their travel movements, and much more.
Due to the above concerns and troubles, the company was overlaid with indirect messes like there was time wastage due to manual supervision, productivity decreases, and the overall work performance of employees was gone down. Hence, to overcome all these difficulties on their way, the team decided to find a single perfect solution for all their list of problems.
During this critical pushy period, they came across Lystloc's location hierarchy solution for tracking their tollgate employees. After going through Lystloc's product demo, they signed up for a free trial. After encountering the trial version and getting a satisfactory result, they opted for a paid subscription and within a few months converted into our first trusted yearly subscription customers.
What Is Lystloc's Location Hierarchy Module All About?
A location hierarchy is a grouping of locations based on a status or category within a structural level. The location hierarchy module involves the practice of establishing location-restricted parameters, allocating those areas to the field workforce, tracking their location-based attendance and work performance, and making necessary changes to ensure they are as successful and efficient as possible.
Lystloc's location hierarchy module will help to synchronize all field force activities and optimized location hierarchy provides the necessary foresight for on-field employee management and efficient work progress.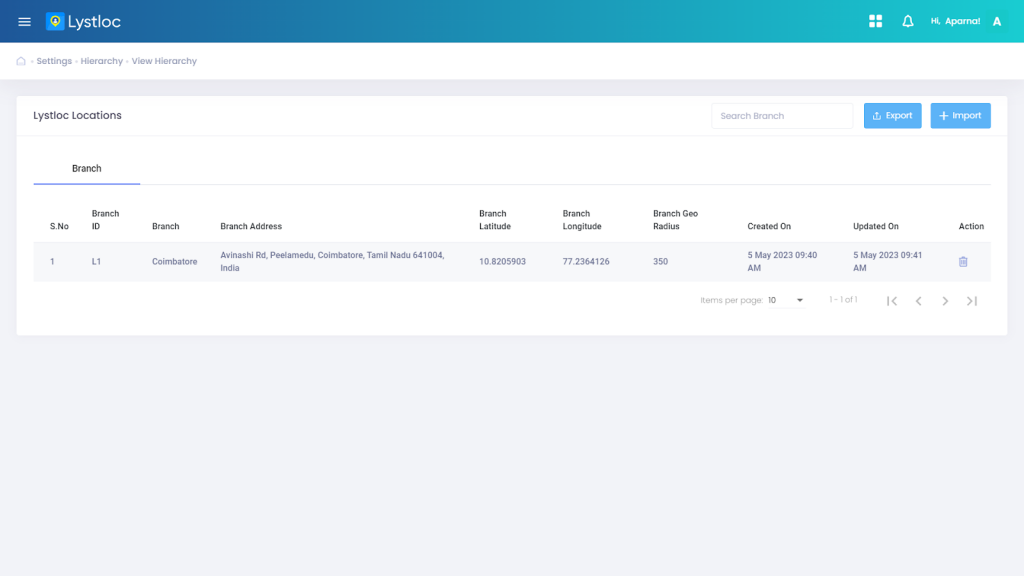 How Does Lystloc's Location Hierarchy Module Help The Unicorn Customer In Efficiently Managing Their Field Workers?
As we have already mentioned above, the customer mainly opted for Lystloc to manage their field workers as most of them work in and around various tollgate locations. So, to make their attendance and work location tracking easier and smarter they went for the location hierarchy feature in Lystloc field force management software.
With the location hierarchy-based attendance feature in the Lystloc field employee monitoring software, they can make their employees work only at specific tollgates assigned to them by their respective managers. So that the daily work attendance log-in/out can only be made when the employee is actually present within the work locations allotted to them. With this, Lystloc will prevent a worker from starting their work shift if they arrive late to their tollgates and attempt to log in while commuting to their respective work location.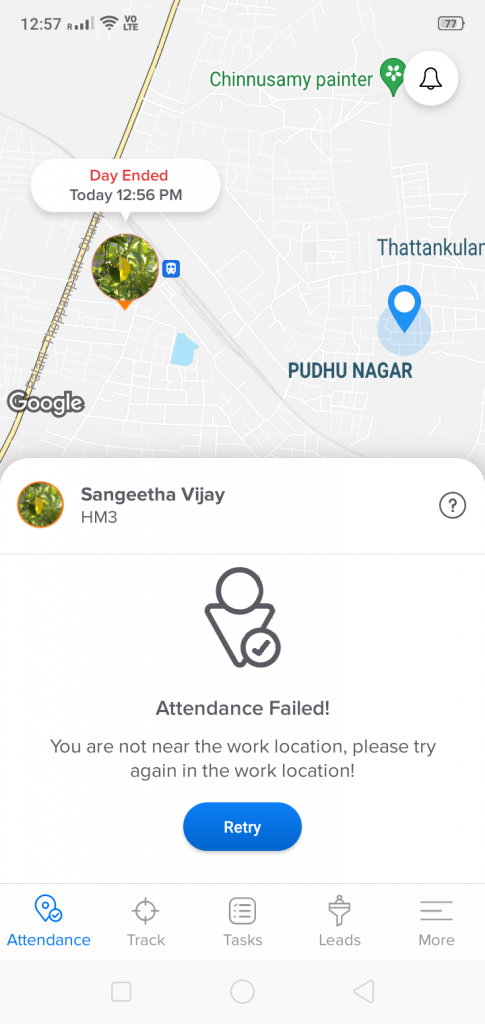 Also, in order to make sure that their field employees don't fail to log out at the completion of their shifts, we also provide instant location-restricted notifications. An app notification is sent to the employee to log out their attendance when they leave their designated work locations 5 minutes prior to their log-out time. By doing this, we cut down on the time needed to review and correct mistakes on employee work time records.
The company's respective managers too will get timely notifications on their mobile screens when their field staffs leave and return to their assigned work locations with accurate time stamps. This way they can effortlessly monitor and manage their ground workers' attendance and total hours of work, find out if they have finished their work before leaving, ensure that they arrive at the specified work locations on time, and do a lot more.
Overall, managers get real-time updates on the movements of their field staff to their designated hierarchy location and can also ensure their safety at regular intervals by making sure they have reached their respective tollgates on time without any obstacles on the way to work.
Comprehensive Real-time Data Reports And Insights Based On The Location Hierarchy Module Updates
For each location hierarchy created for specific sets of employees, complete data reports with accurate data such as attendance status, location, date and in/out time stamps, total work hours, late times, check-ins/outs, distance travelled and much more are provided in a simple and neat format for easy viewability.
This gives managers a thorough account of their ground employee's activities while out in the field, especially any crossings of geo-fenced location hierarchy. Additionally, it provides you with access to in-depth field reports that are useful in calculating payrolls, work performance, and other factors. The organization can further develop the enhancement strategy and create more location hierarchies with the help of such detailed information on how well these tollgate zones are doing.
Happy Customer Feedback After Experiencing Lystloc!
"Lystloc – Monitoring and Improving Ground Team Performance, we have been using the Lystloc platform for the past few years and the experience has been quite positive. The platform has enabled us to better monitor the ground team present and to improve their productivity by looking at key real-time metrics. The team has also been instrumental in providing customer support as and when required, along with support in developing and incorporating customer requirements."
The use of the Lystloc software in their day-to-day operations has significantly improved their workforce productivity while saving them a major amount of time and effort spent on their field employee management. The software is efficient in its operation, is simple to use and manage, and serves as a great solution for field-related issues. If you're on the lookout for a perfect and complete pack of field force management software for your field workforce with all the amazing features and a one-stop solution for all field work-related difficulties you can check out Lystloc.