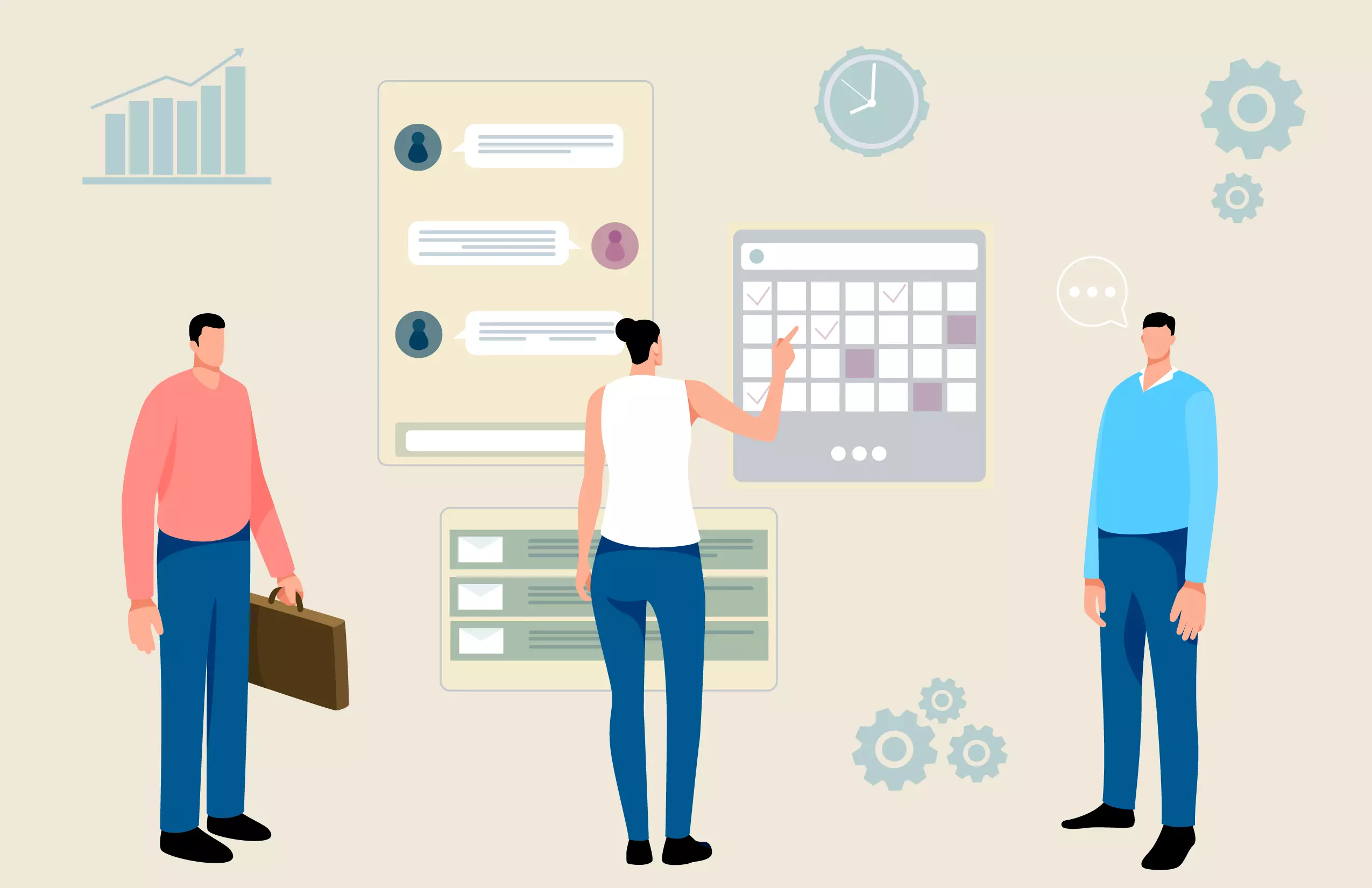 7 Best Field Force Scheduling Software For Your Business
There are several factors to take into account while creating the work schedule for your field employee's next week's activities. Regardless of how diligently you attempt, something is bound to crop up, which is the toughest part of this hard work. Whenever it occurs, you must return to your spreadsheet and begin over. But you might think about attempting field force scheduling software prior to your return and spend an additional hour adjusting the schedule.
You can finish this tiring activity of scheduling without using spreadsheets or writing on paper when you have this software in your grasp. Additionally, it is not required to take up hours of your important time each week. There is this affordable approach that is significantly more effective for organizing your field employees. You can manage work scheduling online, connect with your field staff using this application, and update their work schedules while they're on the move.
What Is Field Force Scheduling Software?
An application that accomplishes the process of setting up work for the field workforce is known as field force scheduling software, sometimes known as field employee scheduling software. It is an approach that makes data on work schedules accessible to every person, anytime. Additionally, it assists in keeping track of other crucial details like employee leave demands and permission requests. As a result, the risks of ambiguity and inaccuracy are nearly nonexistent when compared to doing the exact same activity manually on a piece of paper.
The amount of time field employee operates is monitored by field force scheduling software. As an outcome, you can more accurately pinpoint circumstances that lead to insufficient staffing or excessive staffing by keeping track of overtime. For many businesses, scheduling software is subsequently essential. Maintaining complete transparency regarding all scheduling plans, the software not only minimizes employee scheduling expenses but additionally improves the synchronization of the scheduling procedure considerably.
List Of 7 Best Field Force Scheduling Software In 2023
Lystloc is a field employee management software that assists businesses in tracking, monitoring, and managing the whereabouts of their mobile workforce and their routine tasks. A comprehensive field employee task management with location restriction proficiency makes it easy for field employees in managing their daily location-specific tasks.
With territory mapping, field employees can view their tasks only when they are within the specified task area perimeter assigned by their territory managers. Field forces can classify and manage their field tasks and activities based on the territories assigned to them. Lystloc allows you to easily analyze field employee performance and sales productivity because they have exact data on how many hours each employee spends on a task and how many client visits they make in a day or month.
Connecteam
A vast number of businesses—whether they are small, medium, or large—trust Connecteam. This field force scheduling software offers automated tools that simplify the job efficiency of your employees, assisting in the elimination of manual field staff scheduling. For example, Connecteam offers a simple drag-and-drop interface to make managing jobs and work shifts easy. To guarantee that each employee is contented and at ease regarding their job schedule, you can additionally allocate time off using the software.
Depending on your business's demands, you can select among existing templates offered by Connecteam. You can easily share the data that your team requires to complete certain tasks because of its capacity to function flawlessly on mobile devices. Additionally, you may utilize the software to keep tabs on field workers' performance and get immediate updates when jobs are finished. The intuitive design of Connecteam and its overall functionality will be adored by your field staff.
When I Work
When I Work is a comprehensive field force scheduling and time-tracking software. It offers Android/iOS software, a schedule maker, availability/time-off oversight, work shift dealings, team communication, and a chatroom. Through easy entry to worker leave and change of shift requests, its solutions make it simple to manage workforce flexibility. According to your organized tasks or assignments, you can promptly accept or reject proposals. Employees, on the other hand, are fully aware of their reporting time frames, eliminating any possibility of misunderstanding.
With its straightforward user interface, work scheduling is quicker, and once an updated schedule becomes available, employees are notified right away via text alerts. Additionally, When I Work offers an online check-in feature that enables field employees to sign up for work using their smartphones or tablets. When I Work makes it simple to create paychecks and timesheets via integration with external applications, eliminating the requirement to switch between various platforms.
Deputy
The Deputy field force scheduling software has great aspects that can aid managers and field employees in enhancing performance. Due to its easy automation and smart interface, this field force scheduling software is usually suggested to big organizations with numerous regulatory needs because it helps shield businesses from safety concerns. The most advantageous feature of Deputy is how simple it is to connect with top salary and human resources platforms to simplify company operations.
Additionally, Deputy offers attendance and time tracking, allowing you to see who showed up for work, who was late, and who was away. As a result, it will be simple for you to discover substitutes for critical work and to record precise timesheets for effective payroll. Additionally, connectivity is immediate, which makes it simpler for you to handle mobile field force employees and teams working remotely.
SwipeClock
SwipeClock is a sophisticated field force scheduling software with several features. With the help of the scheduling tool, you can easily establish schedules for your field staff, switch and alter work shifts, and acquire more understanding of how to boost profits by having staff follow their schedules more closely. Additional HR capabilities include the capacity to establish staff award programs, appreciation boards, and onboarding for employees.
The software from SwipeClock enables you to keep an eye on employee perks, track possible extra hours, and stop buddy punching. However, the program enables quick timing modifications and repairs in the case that a punch time is missed. Additionally, you obtain the knowledge necessary to schedule the most productive employees during times of high business flow to maintain the effectiveness and efficiency of business activities.
Homebase
Time monitoring, team interaction, and payroll management are just a few of the many functions available in Homebase, an all-encompassing field force scheduling tool. Managers can easily establish work schedules using these digital employee scheduling features, and employees can view their schedules from any place. Additionally, this app allows field workers to use their smartphones to clock in, and clock out, as well as request time off.
Clocks with GPS technology are one of Homebase's distinctive characteristics. If your workers work at different places, employing a GPS-based clock-in tool will enable you to track their exact spots for every single log-in. Homebase is a fantastic option for small companies searching for a comprehensive staff scheduling system because of its easy-to-use layout and powerful capabilities.
Everhour
With the help of Everhour's field force scheduling software, you can invoice customers, track time, and analyze employee efficiency utilizing the timesheet interface. You can convey any employee with tasks, deadlines, and pertinent details regarding every task they're required to work on with Everhour. Additionally, employees can monitor the duration it requires them to complete particular activities using the time clock feature, which makes monitoring field employee work time much simpler.
Everhour also has an excellent set of reporting options that can assist you in conducting in-depth analyses of the data. As a manager, you may use the analytical capabilities of Everhour to make better choices while also saving time, being more transparent, and producing reliable and highly qualified reports.
Wrapping Up
Are you sick of manually or using obsolete spreadsheets to handle the work schedules of your field staff? For small organizations, organizing employees' schedules might prove to be a difficult process. Nevertheless, it can be accomplished much simpler and more effectively with the correct field force scheduling software.
Select the solution that best matches your company's requirements and financial constraints, and begin taking full advantage of the benefits of automatic payroll management, time tracking, and scheduling of employees. In the long haul, engaging in a dependable field staff scheduling tool will help you save time, cut down on inaccuracies, and increase efficiency. Why not try out one of these software right away to discover how it can change the way your small business functions?