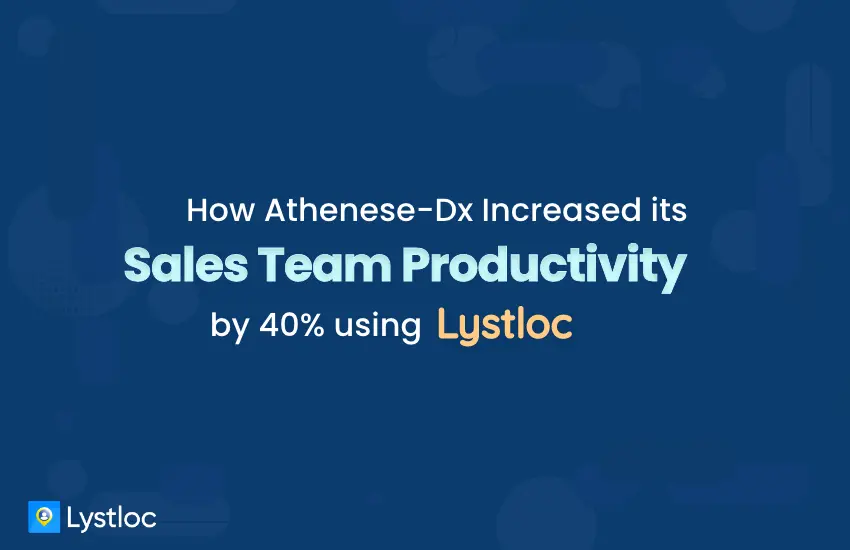 How Athenese-Dx Increased its Sales Team Productivity by 40% using Lystloc
Let's get to know how Athenese-Dx – A medical equipment manufacturing company improved their sales workforce productivity by using Lystloc.
Athenese-Dx: A Prompt & Brisk Introduction
"Athenese-Dx" is a leading medical equipment manufacturing company launched in the year 2014 in Chennai, Tamil Nadu. It is completely a client-centric company whose CEO is Bala Pandi.
Basically, Athenese-Dx is into manufacturing, supplying, distributing, importing, and trading of a wide assortment of Rapid Test, ELISA Kit, Malaria Rapid Test, and Disease Rapid Test.
For more than 7 years they have played an important role in the medical field by supplying their products to several medical centers and hospitals.
Their goal is to provide effective results, superior quality, user-friendly and affordable products to their customers at every point.
Prime Obstacles Faced by Athenese-Dx in Managing Their Sales Reps
As a medium-sized company with an average of around 100 employees, the foremost problem faced by Athenese is that they were having a tough time in managing and tracking the daily activities of their field sales reps.
In order to make a company successful, it is important to have up-to-date information about both the customer to whom the product is provided and also the employees working for the company, especially the on-field employees.
But in Athenese-Dx, they tend to face a lot of difficulties in managing their sales medical reps working under their supervision. To be more precise some of them can be:
1. Information about customer meetings were not recorded in real-time,
2. Tracking the exact location of the sales representative was impossible.
3. Difficulty in assigning new tasks to them as sometimes, sales reps don't pick calls.
4. Trouble in tracking the number of customer visits made by sales reps.
5. The difficulty in knowing the distance travelled by the sales team.
6. Difficulties in collecting pieces of information like how much product sold, the total value of the order taken, etc
7. Last but not the least, maintaining sales reports manually was the toughest task.
Hunt for a Perfect Solution
Due to the above problems, Athenese were overlaid with indirect messes like there was time wastage, productivity decreases, overall sales performance was gone down.
Hence, to overcome all these stopping stones on their way, the team decided to find a single perfect solution for all their list of problems.
During this critical pushy period, they came across Lystloc's solution for tracking on-field employees. After going through the onsite demo, they signed up for a free trial for a week.
After encountering the trial version and getting a satisfactory result, they opted for a paid subscription within a few days even before the expiry of the free trial period.
Lystloc – A One-Stop Perfect Solution
With the support of the Lystloc app Athenese team was able to get trustworthy acknowledgment for all their long-term troublesome problems. They were able to track their on-field sales reps comfortably from anywhere at any time.
Using Lystloc, they tracked the routes of each sales rep and their km travelled with the help of Mobile GPS. Lystloc also provided Athenese with a location-based attendance marking option, using which their field sales employees can punch their daily attendance from their working location itself.
With the support of Lystloc, Athenese-Dx was able to increase their overall productivity and sales activity to nearly 40%. Added, the time spent on creating manual reports was saved by 70%.
Isn't it great work done by Lystloc within a short span?
On the whole, Lystloc became a one-stop perfect solution for all their sales team management and tracking-related problems.
Elated Customer Feedback!
Let me introduce Mr. Amit Kumar Tiwari who is one of the dedicated and working team members of Athenese-Dx company. He is the General Manager, Sales & Marketing of Athenese-Dx. All the activities related to sales take place under his supervision.
He has given a valuable feedback regarding Lystloc after experiencing an amazing result out of it.
"Lystloc allows us to focus on what really matters. We now know more about our business and spend less time managing it, helping us be a better company. I recommend Lystloc to any business that needs more insight into how their time is spent. I must say that this is the best tool for team management and comes in a simplified and easier version to use. I don't have to ping my employees for works and ask them for reports, I just take a look at the dashboard of Lystloc and that's it." Said Amit Tiwari, General Manager – Sales & Marketing, Athenese-Dx .