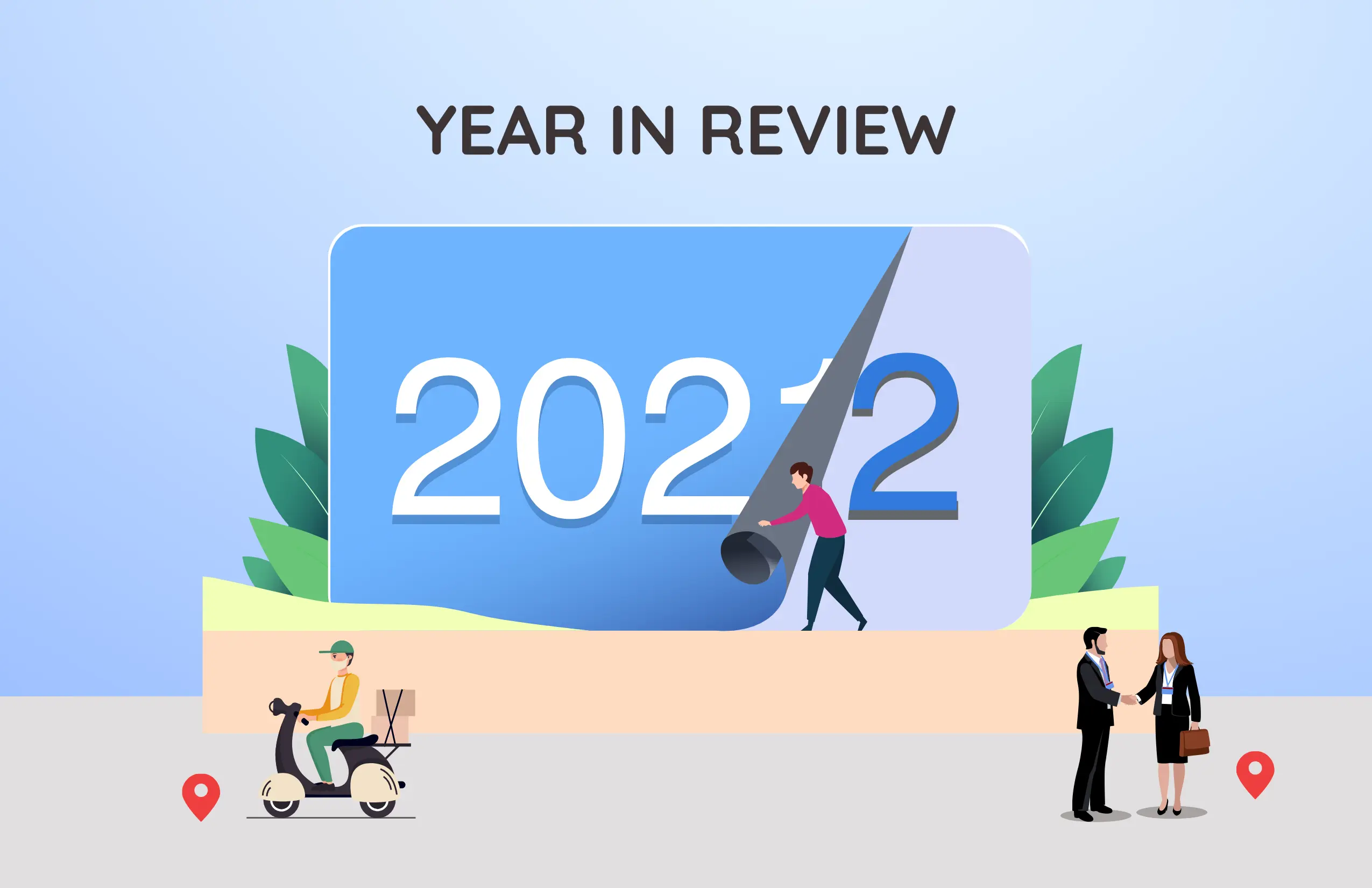 Lystloc's Year in Review 2021
Yes, we have come to the end of 2021. It's unbelievable that in a blink of an eye we have completed one full year.
The end of the year is a time for reflection, gratitude, and recollecting moments. With our inboxes still and our calendars free of meetings, we can afford to take a few minutes and think about what we have achieved in 2021 and what to add next to the bucket list for next year.
Let's see what Lystloc has accomplished in 2021 as a quick recap of events.
Was 2021, a Noteworthy Year for Lystloc Team?
In 2021, Lystloc had a good addition of key members to the various teams, be it sales, marketing, or engineering, now we feel we have the best people in all key areas. This is also reflected in many feature development as well as in sales figures.
The growth for the individuals as well as the company was tremendous in 2021. Every member got promoted in 2021 organically across the teams.
Substantially Evolved and Prospered with Feature Enhancements
Many of your customers probably love your product just the way it is. Even so, some customers always wish for more. They'll appeal to new features and developments from time to time no matter what.
And often, adding a sought-after new feature triggers requests for several more. It is important that we listen to customers and start improvising ourselves which satisfies the customer needs.
All your hard work has paid off, and you're ready to introduce your updates to the customers. If a customer's favorite feature just got a little bit better or if there's something that may now be relevant to them that wasn't before, they'll want to know.
It should be a celebratory time for both the team and the customers who are going to use it.
We in Lystloc, have celebrated many such occasions in 2021 by releasing some really beneficial new feature updates and existing feature enhancements. Are you eager to know what it is?
Jan Releases- Lystdata Feature Page

Feb Releases- Offline Tracking
May Releases- Business Card Reader , OTP Authentication
June Releases- Lead Module In Android
July Releases- Task Module In Android
Aug Releases- Offline Check in/out, Repeat Task After One Time Creation, No task location restriction, Daily Route Planning
Sept Releases- Hierarchy, Customer History Management
Oct Releases- Assign Task To Multiple Users, Sending MoM via Emails
Nov Releases- Travel Reimbursement Module, Admin Panel Reimbursement Page
Dec Releases- Revamped iOS app with better UI/UX, Upgraded App Performance, Admin Panel Tracking Page Revamp, Released New Reports In Lystdata
New Developments & Optimizations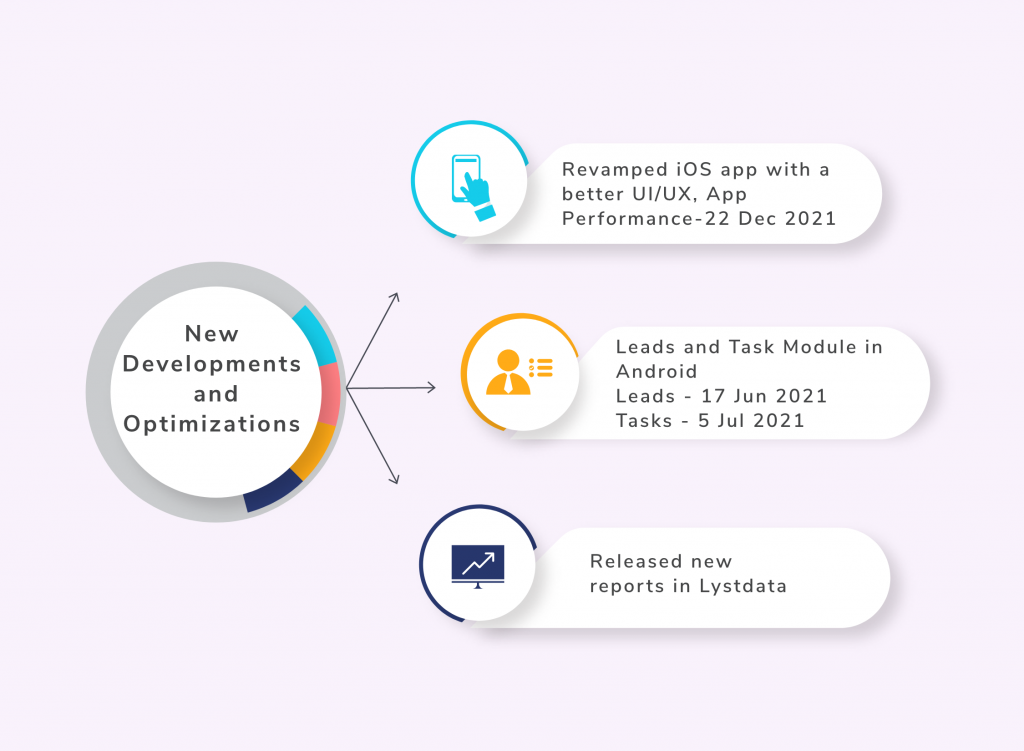 New Feature Releases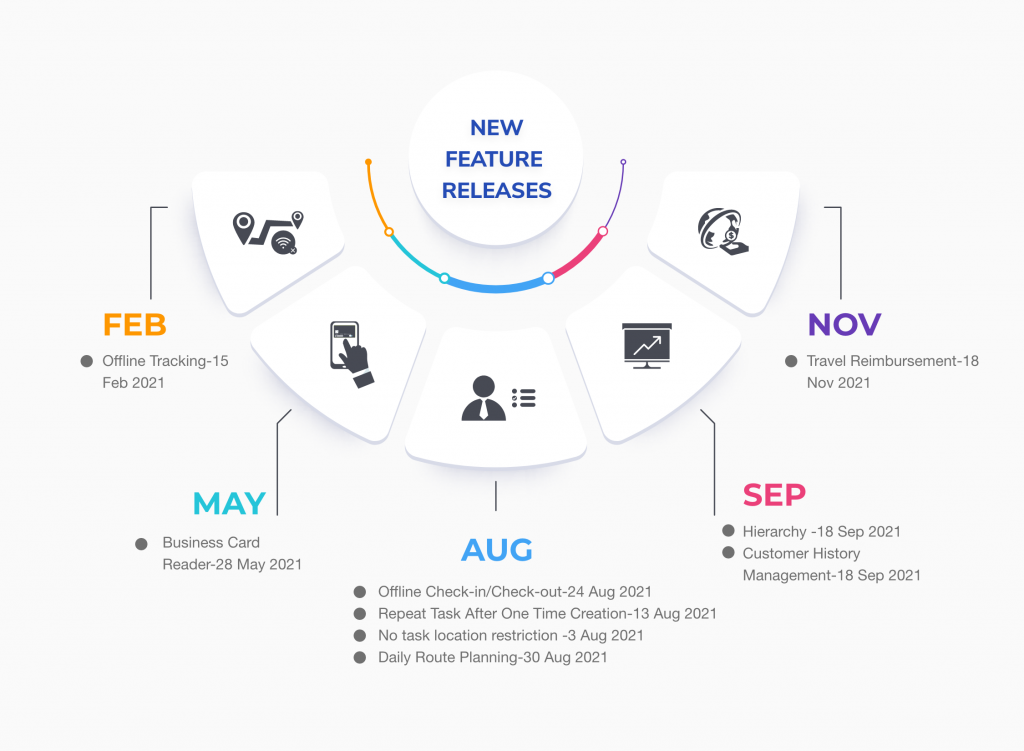 New Landing Pages & Revamping of Pages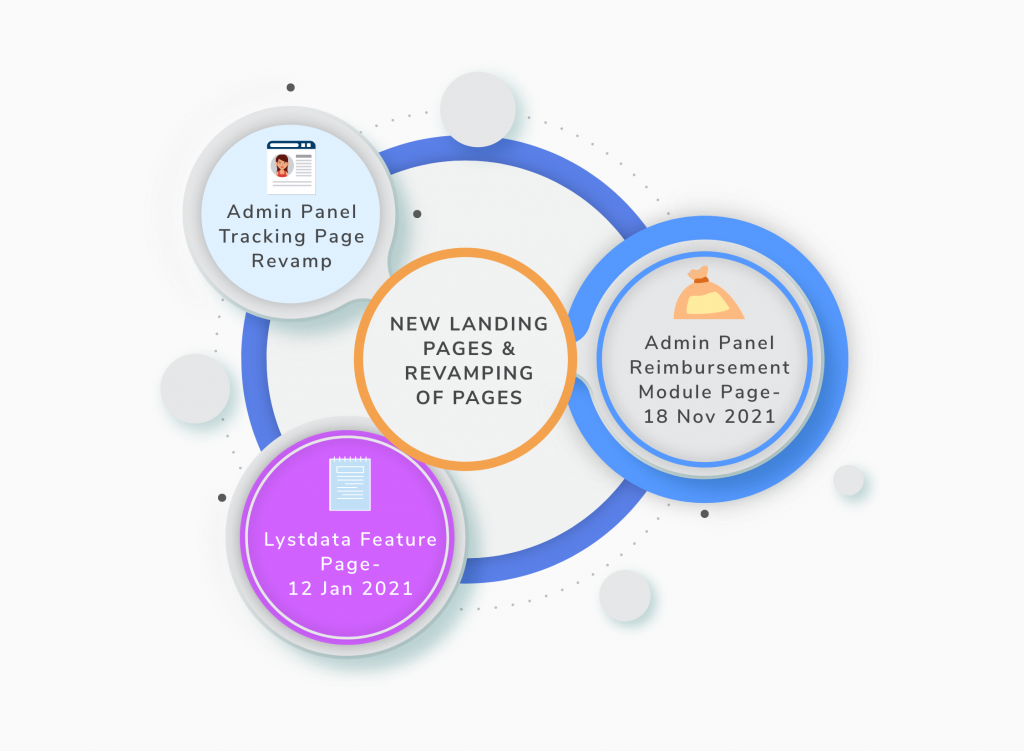 Economically we were able to make High Revenue Growth
Profit and high revenue are arguably the most important measurement of growth for a business, as revenue growth indicates the health and profitability of a business after all expenses. Thankfully, in 2021 we were able to make some good pennies in our pocket.
The annual growth rate of revenue from total sales was on a high scale i.e in 2020, we did approximately INR 20 Lacs and in 2021, we reached a total approximation of about 70 lakhs.
Isn't it an amazing high jump we did in 2021? It was very good and it improved the confidence within the organization and teams and also kept us intact to reach our upcoming targets for the coming year.
Globally New Customers who joined to Lystloc Family to make it More Bigger
2021 was indeed an extended year for Lystloc since we were able to expand our business across the globe and also within India. There are some amazing companies that joined Lystloc as new pride customers in order to grow their business with our support.
We want to list a few of them as a token of appreciation.
Vanchinad Group of Companies
Blackbuck (also, added 2 more organizations to Lystloc)
Turning Points in Lystloc's Journey to Success 2021
Kicking off a journey as a startup company is exciting and daunting at the same time. The agitation of starting on a new journey, growing steadily, being independent and in control, making a difference in the world are all reasons to look ahead with great excitement and anticipation.
But, at the same time, the road won't be that simple and narrow making it dull and boring. There will be lots of interesting paths like stepping stones, mileposts, landmarks, turning points, and whatnot.
In our success journey, we also came across lots of such stepping stones and turning points that made our journey more interesting and enthralling such as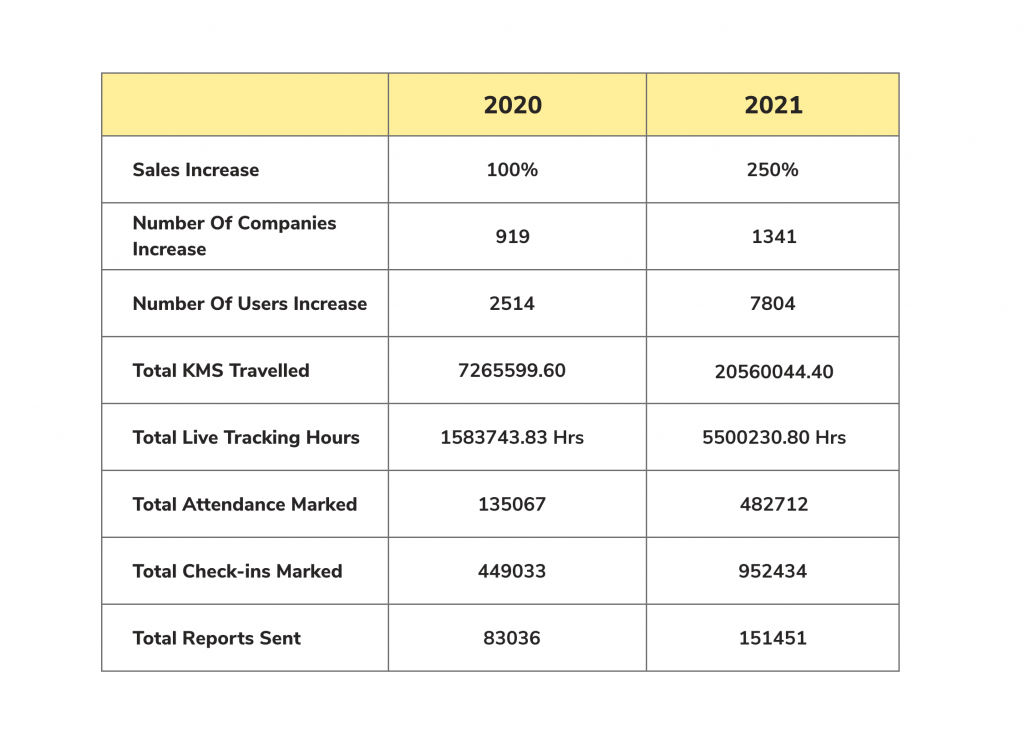 We reached our app to 10K downloads in Google Playstore
Blog Organic traffic increased to 479.26% over 2020
Website Organic traffic increased to 189.51% over 2020
New Companies Growth- from 4 to 16 per month in 2021
New Users – from 900 to approx 4500 paying users in 2021
Milestones crossed by Lystloc in its Business Journey
"Remember to celebrate milestones as you prepare for the road ahead"- Nelson Mandela
We are delighted to share that 2021 was indeed a special year for Lystloc. We were able to achieve some great milestones this year and are proud that we became capable enough to attain them.
We were able to provide 50+ data report variations to our customers through Lystdata. Also, able to get Sendinblue Integration, BI Reports, CICD Pipeline, etc to our app.
With regards to customers, a couple of customer onboarding has tied up with our new features even before its release and started using it instantly after its release.
We onboarded a unicorn company in India with 1000 licenses using Lystloc for their daily operations is one of the biggest milestones for us.
Furthermore, a lot of existing customers opted to pay annually which shows their trust and confidence in us and it is the biggest testimony that we could ever get from them.
The list of achievements doesn't end here, there will be more to come and more to reach in the coming years.
Recognitions and Appreciations for Lystloc in the Year 2021
When we get to know our hard work is appreciated and recognized in the right way, we feel that our work is valued and this motivates us to do more and improve our great performance in the ongoing journey.
In 2021, we also got the opportunity to taste this appreciation and recognitions that was given by Software Suggest by badging us as the
We are really privileged and grateful to get these badges pinned on our page.
Appreciation thrives us to Do More
We are working 24/7 for our esteemed customers and a positive appreciation from them is like icing on the cake. It means a lot to us!
Customer appreciation is the measure of an organization's efforts to show customers their value and importance. In 2021, we were really grateful to get some really nice reviews from our customers like
"Lystloc allows us to focus on what really matters. We now know more about our business and spend less time managing it, helping us be a better company. I recommend Lystloc to any business that needs more insight into how their time is spent. I must say that this is the best tool for team management and comes in a simplified and easier version to use. I don't have to ping my employees for works and ask them for reports, I just take a look at the dashboard of Lystloc and that's it." Amit Tiwari, General Manager – Sales & Marketing, Athenese-Dx.
"With Lystloc, I'm having a good time reducing my organizational workload. I'm saving a good amount of time with Lystloc's automated reports as my requests were considered and attended on time with a prompt response. It works perfectly as exactly how we've wanted it to." MT. Rao, Marketing Director, Renovate bio
"We have been using the Lystloc platform for the past 4 months and the experience has been quite positive. The platform has enabled us to better monitor the ground team present and to improve their productivity by looking at key real-time metrics. The team has also been instrumental in providing customer support as and when required, along with support in developing and incorporating custom requirements." Black Buck Team
What Lystloc is looking forward to in the Year 2022?
Lystloc is expecting great things in 2022 with lots of new launches and milestones on its way
From Data Services we are expecting Lystdata to be a separate platform that will be a very valuable addition to Lystloc.
We are looking forward to developing more feature-rich iOS and Android apps and revamping the Website & Admin Panel, etc.
Also, working really hard to create another milestone with 10K users and growing across continents by adding 50,000 users by Dec 2022.
This is not the end of the list, there are more to be added to our wishlist!
We would never know when the ongoing pandemic will get a halt, and also how it will change our daily living in the future, or what other economic and social bombshell we may face in 2022. What 2021 taught us about the year ahead? If nothing else, we've learned to expect the unexpected.
Let's keep our fingers crossed and hope for the best!
Welcome the brand new year with all smiles and happiness!!!