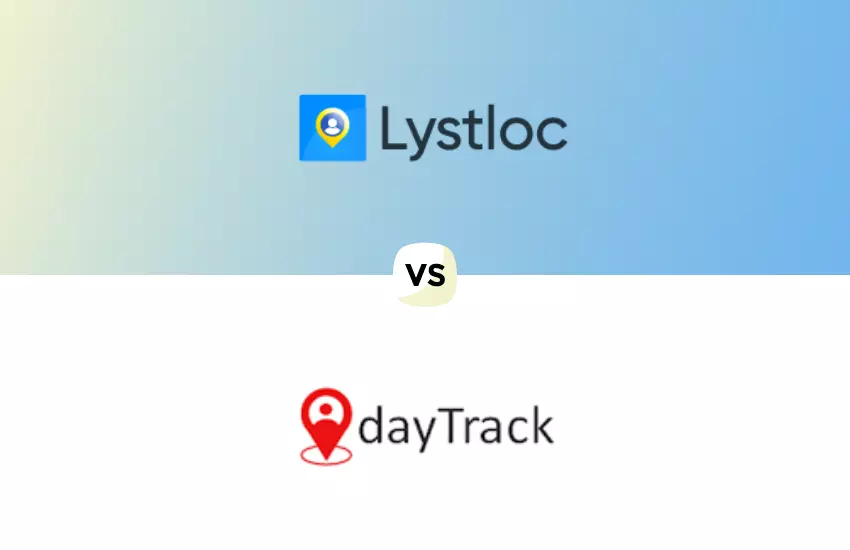 Lystloc vs dayTrack
It is certain to the fact that location intelligence is building its fort in the market with enormous potential to exploit. And we are loaded with tons of applications and web-based tools to foster the productivity of the workplace with location information.
dayTrack is a field employee management application service provider. dayTrack users intend to free themselves from conventional work operations by introducing location-based tools to the respective workplace.
But, the User Interface and the data input modules are highly uncomfortable making it the worst decision for workplace activities.
Lystloc Vs dayTrack
Although Lystloc and dayTrack share similar features, it is easy to spot some key differences that dayTrack failed to assure their users.
The key areas of differences are:
Data input modules
Demo run period
The pricing models
Stability of GPS functionalities
User Interface and Design layout
What Lystloc and dayTrack share in common?
Both Lystloc and dayTrack intend to simplify the location-related challenges that enterprises go through in their trade. The potential to process location information into real-time data is one of the key functions that both the application serves ready-made to their users, and it's highly impressive.
Criteria
Lystloc
dayTrack
Pricing plan / user / month (billed annually)
₹ 199
₹ 249
Free Plan
YES
NO
User limit for free plan
Unlimited
Usage limit for free plan
1K Hours Live Tracking
Free Trial
YES
YES
Setup Fee
NO
499 INR / user
Support
Chat, Email & Phone Support
Phone/Email
API Integration
YES
NO
For Web
Web dashboard
YES
YES
Apps
iOs
YES
YES
Android
YES
YES
Access to Other Platform
Email, Whatsapp
NO
YES
*This comparison we have last checked and updated on 24/02/2021
How is Lystloc different from dayTrack?
Although both Lystloc and dayTrack share few features in common, they have a huge difference in some key features that both applications offer.
Features
Lystloc
dayTrack
Attendance
Geo Location Based Attendace with Photo Option
YES
YES
Visits/Business Meeting – Meeting Notes
Location based Meeting updates ( image attachment / voice attachment)
YES
YES
Day/Route/Beat Plan – Task Management
Location based Task Management Updates
YES
YES
Expense Management
YES
YES
Day Reporting
YES
YES
Offline Working
Live tracking
YES
YES
Reports
YES
YES
Lystdata / Custom Report – Paid additionally
YES
YES
Custom Forms
YES
YES
Product Catalog
YES
YES
Order Management
YES
YES
Timesheet Management
YES
NO
Waiting Time Calculation
YES
NO
Check out Reminder
YES
NO
Play/Pause Route
YES
NO
Real-time Route Marking
YES
NO
Auto Logout Option
YES
NO
Dashboard Roles & Permission
YES
NO
Travel Reimbursement
YES
YES
Contact list / Customer List
Location based Contact list
YES
YES
Bulk upload of contact list
YES
YES
*This comparison we have last checked and updated on 24/02/2021
Looking for an alternate for dayTrack?
If you're looking for an alternate for dayTrack, we can be sure that Lystloc will be the one that you're looking for. With its cutting-edge technology to provide accurate location details and analytics in real-time, Lystloc stands to eliminate the location-related challenges that you and your organization are facing.
How Lystloc can be a great alternative to dayTrack?
User-friendly data modules
Lystloc is extremely simple in collecting data. With Lystloc's customizable forms, the manager can create their input modules with greater ease. By doing so, enterprises can simplify the entire workflow according to their convenience.
Lystloc's forms feature works in a simple drag and drop methodology. Since it follows the What – you – see – is – what – you – get approach, data input becomes an easy nut to crack.
With the flexibility to customize our application to your convenience, it is no doubt that your business stays at the top of the productivity curve.
Appealing User Interface
Unlike dayTrack, we have an aesthetically designed user interface. After a long day, it is a bit unsatisfying to look at an interface that is extremely clumsy and old-fashioned.
So, eventually using the application with such an interface becomes a burden for the employees. With our extremely appealing user interface, users can be comfortable with updating their location information with greater ease.
Economical package
Yes, we do understand that you don't want to waste your time, money and, other resources by investing in an application that is completely strange to your business environment.
And that is where we are going to give you a green light by offering you 1K hours of real-time location tracking and attendance. And the trial run also includes 250 timesheet submissions, 3 months data retention, 1 GB cloud storage, and much more.
With such an extended trial run, you can gauge our application's potential easily without being hurried. If you think that it is a must-needed element to your environment, then fear not!
Our application comes with a pocket-friendly tariff and packages so that the companies can select the tariff that can be convenient to their company and users.
Real-time location information with great precision
Google maps being the prime element to extract GPS details from the user's mobiles, we developed our own AI to deliver stable and accurate location information.
We deliver this accuracy with our noise reduction artificial intelligence algorithm. It reduces the random location point noise and gives accurate results for tracking and route mapping making it stable than google maps.
So, Lystloc's performance in providing real-time location accuracy is beyond human intelligence.
API Services
With our enterprise plan, it is possible to integrate our application with other applications that are practiced in your work environment.
This not only adds an advantage to our environment, whereas it acts as a catalyst in strengthening your existing work habits in your work environment.
For Free Trial, Click Here: Signup
Disclaimer: We do not take any ownership of the organization names, brand names, features name used and mentioned in this blog. They belong to their respective owners.