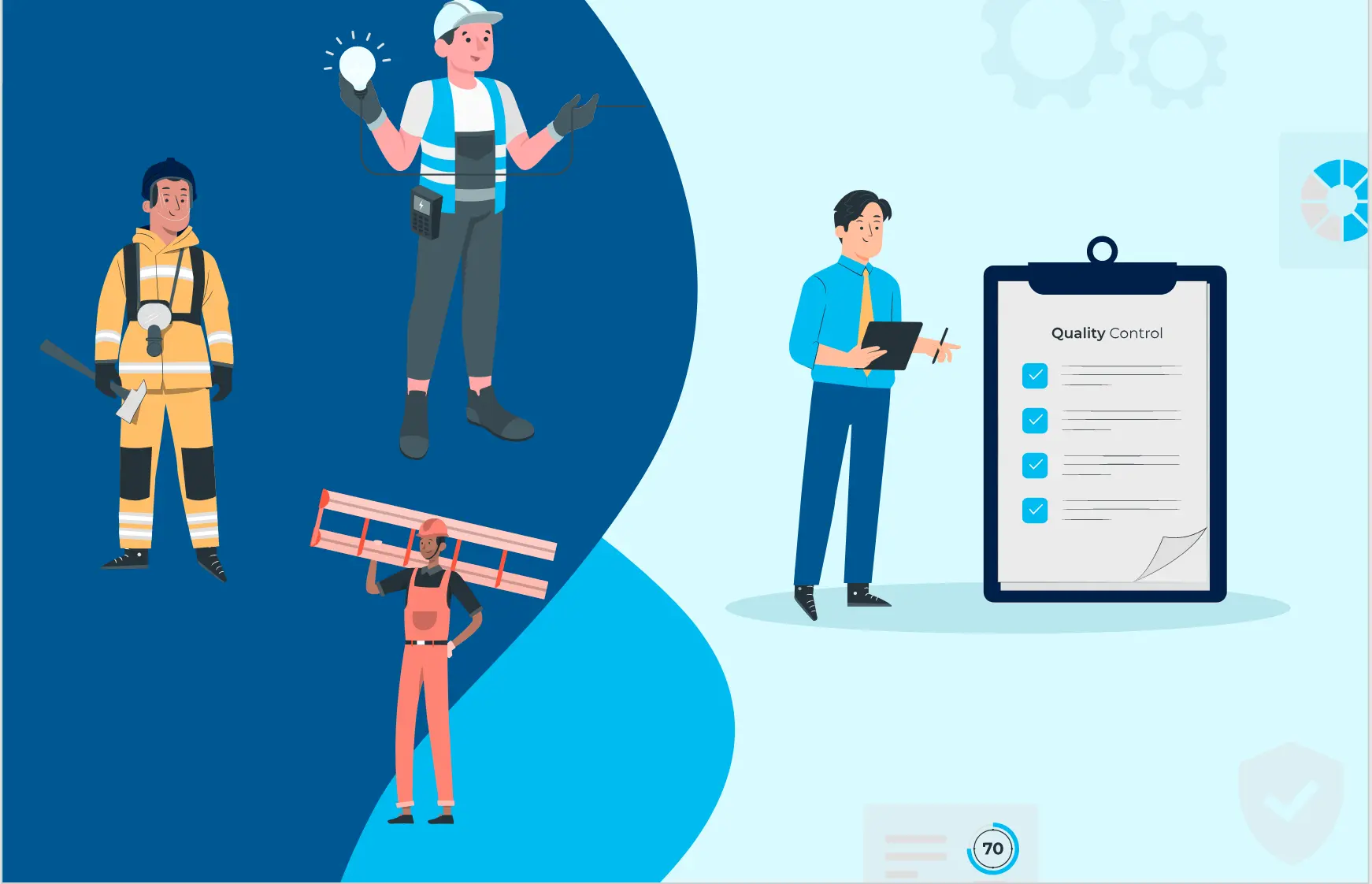 Field Service Engineer Vs Field Service Technician: A Brief Differentiation
Designations are interesting things for all kinds of jobs. But at times it can be confusing too. Field service engineers and field service technicians are the two important field service employees, which creates the same delusion. Engineers and technicians form an important part of the augmented reality field service team. When you know the differences between both roles, you can make better use of them.
At first glance, the differences between these two roles aren't all that much clear. What we do not consider is that even though these terms are used interchangeably and also have a similar nature of work, there is a vast difference between field service engineers and field service technicians.
Who Is Field Service Engineer?
A field service engineer is a person you find actively working on the field instead of in the office. He provides services to the customers at their homes or business locations. They have the required education and professional training to perform repair, maintenance, and installation works. There are a variety of field service engineers such as software expert, a field engineer who installs hardware and at times performs repair of products among other responsibilities that they handle. In addition to that, they also head teams of technicians, assign tasks, track field works, manage reports, and maintain customer relationships.
Roles Of Field Service Engineer
Scheduling and assigning tasks at each job site
Ensuring proper adherence to safety requirements in facilities
Study latest trends and developments and improve technologies accordingly
Writing detailed technical reports and managing them properly
Assess hardware and software malfunctions by means of diagnostic tools and customer input
Who Is Field Service Technician?
Field service technicians perform tasks that are more or less similar to what field service engineers do. Their work in the job field can include troubleshooting and analyzing problems and then giving repair recommendations and quotes. Once a repair has been requested by the customer, field service technicians usually perform the repair. The Field Service Technician delivers the service and customer assistance during field visits as per the customer's requirements. They manage all onsite fitting, patch-up, maintenance, and test cases.
Role Of Field Service Technician
Conducting routine equipment servicing out in the field
Responding to customer callouts and field dispatches
Inspecting and troubleshooting product failures
Troubleshoot any problems the customers are having
Ability to use, repair and maintain machines and tools
Field Service Engineer Vs Field Service Technician: What Is The Difference?
Field Service Engineer and Field Service Technicians both of them work on the field to address issues that the customers encounter. However, there are few differences in their duties, the qualification required, their backgrounds, and how much they get paid. Let's see what the mere differences in them are.
| | | |
| --- | --- | --- |
| | Field Service Engineer | Field Service Technician |
| Qualification | Four-year bachelor's degree is mandatory | Associate's degree or related technical training |
| Skill Sets | They share those technical skills, but they also need to recognize the big picture view. Need good management skills to guide technicians during repairs and maintenance. | They get hired based on the hands-on experience that they have in a particular technical area. Skilled with an equipment category or software, with the knowledge of how to fix a problem in a timely manner. |
| Core Skills | Technical expertise often specialized to an industry or equipment category; problem-solving; knowledge management and transfer; customer service. | Time management, customer service, communication, mechanical and service repair, issue diagnosis, task prioritization. |
| Team Interaction | Product, design, research & development, and training technicians. | Working closely with customer and service support teams. |
| Service Delivery | Focused on research and product design part, applying scientific or theoretical methods for solving problems or getting back a customer to productivity. | Focused on tactical processing of repairs, maintenance, and optimization of product parts and equipment. |
| Salary | Salaries range from 40,300 USD (lowest) to 139,000 USD (highest). | Salaries range from 16,100 USD (lowest) to 51,300 USD (highest). |
Effective Way To Track The Work Of Field Service Engineer And Field Service Technician
Be it a field service engineer or field service technician it is important that we track our field employees every now and then. By keeping track of their field activities and client meetings it will be easy to analyze and record their productivity and sales. For that, we need perfect field force management software which can act as a one-stop solution for employee tracking and management. Lystloc is one of the best choices you can make with regard to field force management software.
Lystloc helps track the location of field service engineers and field service technicians, automate their daily attendance, record travel expenses, and manage daily tasks using geofencing capabilities. With the help of this software, managers can check their daily client appointments, task allotment, work status and will also help to track employee performance. Moreover, field executives could work efficiently with mobile field force management software and boost performance. The up-gradation of Lystloc in your business will help avoid error or mismanagement. This will also play an essential role in preventing any miscommunication.


Summing Up
Each company decides who it needs to hire and train for optimal field service work and customer support. And it's a usual thing for an organization to employ field service engineers and field service technicians. No matter what job profile a field service professional has, in every aspect, they are critical to their organization's productivity and customer satisfaction.
The field force management software plays a big role in this case. As the services, the field service engineer and field service technicians provide are quite the same, field force management software helps to track and manage their field works and customer meetings and service requests.