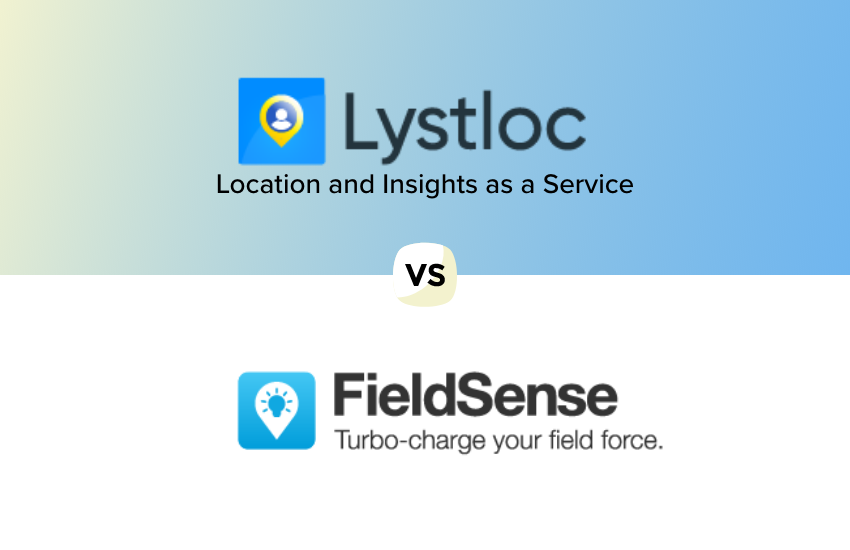 Are you searching for a finer replacement to FieldSense?
Then definitely you have to give it a try on Lystloc – one of the best real-time location intelligence applications and a greater replacement to FieldSense on some aspects.
Why Lystloc is a better alternative to FieldSense?
Lystloc is a mobile-based application platform for field-based workforce productivity and can be used in field employee's day-to-day activities.
It is a location intelligence and data analytics SaaS app used as a permanent solution for managing those employees who are working on-field.
This product is completely used for tracking location-based information, on-location attendance, work management, analyzing data, etc.
Lystloc is completely developed based on cutting-edge technologies in order to incorporate features like speed, scalability, security, and cost-friendly.
Via Lystloc, we support the sales managers and HRs to collect full-on information about the on-field employees and sales team's current precise location and allow them to assign meetings according to the availability of nearest clients.
Lystloc also provides a live tracking option by which they can get time to time information about the sales employee's present location, their check-in/out's, distance travelled by them in a day, and much more.
User Friendly – No complex working functionality and have a greater app design, and clean presentation.
Affordable – Get access to amazing features and options at a minimal and cost-friendly price.
Product Flexibility – Adaptable and malleable inbuilt software structure, and available in Android and iOS mobile platforms.
Scalable – Seamlessly and efficiently accommodate growth and ability to handle an increase in users and load, without disrupting the end-users.
Simple and Customizable – The application features inbuilt is a simple on/off button which can be customized according to the needs and specifications of client groups i.e the clients can either use it or not.
Lystloc Vs FieldSense – An Abbreviative Overview!
Criteria
Lystloc
FieldSense
Pricing plan / user / month (billed annually)
₹199
₹208
Free Plan Option:
YES
YES
User Limit
Unlimited
25 Users
Usage Limit
1K Hours Live Tracking
Not Specified
API Integration
YES
NO
Lystdata
YES
NO
Free Chat, Email & Phone Support
YES
YES
Web Dashboard
YES
YES
Customized Dashboard (Track Page)
YES
NO
Dashboard Roles & Permission
YES
NO
Premium Support
–
YES
(₹100/user/month)
Setup Fee
NO
YES
Bulk User Sign up/ Customer Upload
YES
NO
Offline Tracking
YES
YES
Auto Logout Option
YES
NO
Android Availability
YES
YES
iOS Availability
YES
YES
For PC(Windows)
–
NO
*This comparison we have last checked and updated on 24/02/2021
A Short Feature Comparison Between Lystloc And FieldSense
Features
Lystloc
FieldSense
Attendance Management
YES
YES
Geofencing Attendance
YES
YES
Live Location Tracking
YES
YES
AI Route Curation
YES
NO
Real-time Route Marking
YES
NO
Play/Pause Route
YES
NO
Check out Reminder
YES
NO
Time Tracking
YES
YES
Waiting Time Calculation
YES
NO
Timesheet Management
YES
NO
Meeting Notes/Visit Management
YES
YES
Task Management/Customer Address Management/Instant Messaging
YES
YES
Auto Filling Customer Details (On Repetitive Visits)
YES
NO
Report Generation/Activity Report Logging
YES
YES
Unique & Multiple Reporting Structure
YES
NO
Live Report Tracking
YES
NO
Dashboard & Insight
YES
YES
Custom Forms
YES
YES
Order Management With Forms
YES
NO
Fuel & Travel Allowances/
Expense Reimbursement Workflow
YES
YES
Workflow Timeline
YES
NO
Admin View/ Collaboration With Team Members
YES
YES
*This comparison we have last checked and updated on 24/02/2021
Glancing Into The Certain Specifications Of Lystloc!
Real-time location intelligence application that provides the organization with the ability to track their on-field employees and their vehicles comfortably from anywhere at any time.
With Lystloc, we can track the routes; get information about km travelled by the employees with the help of GPS signals.
Employees can save their attendance through a single touch fingerprint-based authentication.
Ability to track the location of each employee working in the team. So that you can easily provide them with new tasks once they complete the previous ones.
Increases an organization's productivity by meeting the needs of the customers on time.
Lystloc as a product is composed of strong and technically powerful Data Analytics oriented Lystdata for deriving reports for payroll processing, evaluating employee performance, agility, and many more.
Why You Have To Opt For Lystloc To That Of FieldSense? – 4 Unique And Key Reasons To Share
Data Analytics-Driven Data
The most difficult works of any firm are on-field employee's attendance and daily work management manually in the form of reports.
In Lystdata, using various Data Analytics techniques we provide our clients with a completely analyzed data report on a daily, weekly, and monthly basis.
This new normal feature is used for deriving real-time reports for company management purposes such as payroll processing, evaluating employee performance, agility, and many more.
API Based Services
Application Programming Interface (API) is an interface that provides communication and connectivity between two or more software applications.
In Lystloc, we provide this seamless connectivity that allows integration with your existing systems to acquire the data of your workforce and enhance the sharing and embedding of data across various applications and systems.
Complete, All In One Package
As a sales manager, everyday work includes monitoring the on-field sales team, assigning time-to-time tasks, attendance management, and much more which are problematic work to carry out.
But, for each and every work we can't opt for separate applications as it may tend to be both time and battery power consuming. In order, to make it easy for you we have provided an all-in-one work tool in the form of a mobile application.
Open Book Policy
In Lystloc, we try to follow an open book policy with all our customers. Our open book policy allows customers to see every aspect of Lystloc from detailed proposals to final pricing with clarity and precision.
No more guessing about the scope of the product or the bill. Through this, we can easily review our customer's needs and understand their business, so we can work together to ensure that their needs are met correctly and on time.
It also allows us to be transparent with our customers, with no hidden amounts whatsoever, building a relationship of trust from day one.
For Free Trial, Click Here: Signup
Disclaimer: We do not take any ownership of the organization names, brand names, features name used and mentioned in this blog. They belong to their respective owners.