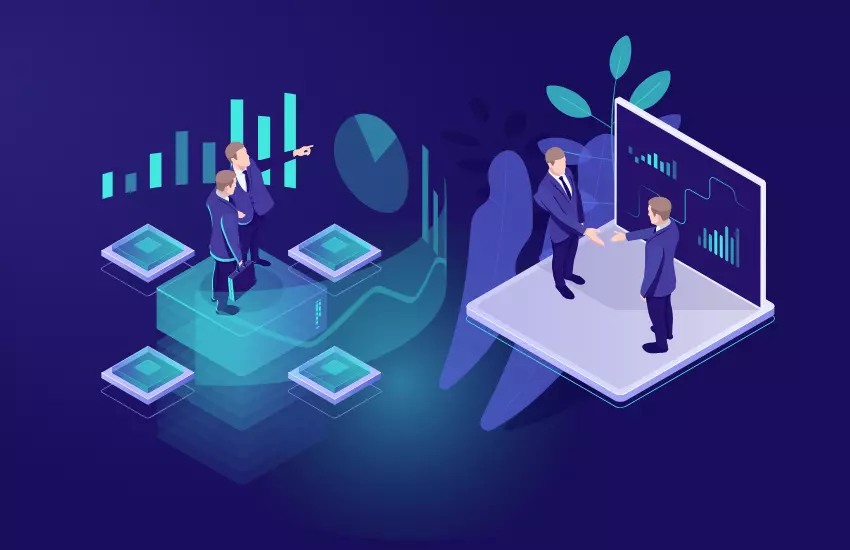 Why Field Service Management App is Important?
In today's fast-paced world, the main aim of all businesses is to improve customer's experience and fulfill their expectations. However, what can be a business that lacks short of all this due to poor Field Service Management? Its future is usually dull and will fall out soon than later.
Managing all the field employees with their worklists, deadlines, project progress, daily reporting, and the overall analysis of the organization without using field service management app is for sure not a simple task.
With the support of advanced field service management applications, an organization's management can get help in managing their on-field employees, activities, monitor vehicles, schedule work, work order management, completed and pending task list, and more.
This application is almost similar to managing the remote workers right from your desk, having an effective technology that drives the business towards its goal.
What is a Field Service Management App?
Field service management is the system of coordinating field service operations as a whole. This includes scheduling work orders, dispatching service employees, tracking employee working hours and task status, and invoicing the completed tasks.
And also, field service management goes even deeper, by encompassing every possibility of service delivery and managing the working teams and processes that make a field service business efficient.
Field service management application supports companies in delivering effective and efficient onsite services by tracking customer requests, managing personnel, and maintaining visibility into service operations.
Field service management application puts together many functions into one unified perfect solution that helps schedule and track field operations and employees.
Field service management systems incorporate specialized software that automates and streamlines tasks and enables managers and executives to focus on growing the business, not managing small particulars.
Need for Field Service Management App
A successful field service management app plays a vital role in customer satisfaction and loyalty. These applications help field service organizations to communicate with employees in the field, electronically manage daily tasks and customer meetings, employee location tracking, and more.
The effect of these management tools is to increase employee's meeting time with customers, reduce the employee's back and forth travel between the on-site and the office, and speed time to delivery and payment.
According to the latest research by Fortune business insights, the Field Service Management market size stood at USD 2.29 billion in 2018. It is expected to reach USD 7.27 billion by 2026, thereby exhibiting a CAGR of 15.9% during the coming period.
And also, Gartner's research (Gartner magic quadrant for Field Service Management), states that in 2020 "75% of Field Service Management companies will use their own apps for their day to day works."
However, "42% of Field Service Management businesses have already developed IoT." IoT helps in building mobility and thereby helps you establish direct communication between the service providers and customers.
Features of a Perfect Field Service Management App
Work order management
Track and monitor the progress of a job from scheduling to the job assigned to the field employee, as well as throughout the job's progress until completion/payment.
Estimation of Quotations
Billing and Invoicing
Mobile Payments
Job/Task Scheduling and Dispatching
Allowing the on-field employees to receive job assignments from managers, prioritize and schedule daily activities, and generate meeting schedules based on optimal routing that account for the location of each job site on the schedule.
Customer Management
Can easily store each and every customers' contact details, billing options, customer history, and meeting experience with field employees. Record, track and analyze customer meeting histories. As well as can contact the customers for payment-related information.
Data Insights and Reporting
In concern with on-field service providing, data insights, and reporting is essential in increasing the visibility of the business operations, and being able to collect data on remote sites is especially important for field service businesses. Some of the common data collection factors:
Location Tracking
Time Tracking
Distance Calculator
Custom Forms
Report Generation
API Integration
Application Programming Interface(API) is nothing but a set of functions that allow integrating multiple independent applications together to build a robust platform. Mobile-using employees has the ability to access all sets of features and options on their mobile device using the dedicated mobile app or a native mobile browser.
Inventory and Logistics Planning
Field service management app facilitates job scheduling and dispatch processes and ensures fast response times and improved real-time reactivity for field service operations. It is built to record the supply chain details of inventory to increase efficiency. However, with full-on mobility, employees are empowered to see, request, and adjust inventory on time.
Field service management application can give you a list of your inventory, manage the receipt of merchandise from the vendor, and can track the transfer of inventory from a warehouse to a truck or a client's job site.
Mobile App Support
Mobile-based features offered by Field Service Management software can support field employees to transform into a revenue-generating agent by equipping them with automated contract renewal and quote generation capabilities, onsite inventory visibility, real-time access to organization data, real-time communication with back office, etc.
Importance of Field Service Management App
Additional revenue: Field Service Management helps the sales managers in simplifying their daily work of monitoring the on-field sales employees. So that they can focus on other high-priority tasks that can even double the sales in their daily work shift, meaning more profit for the business.
Cost-cutting: The cloud-based nature of the field service management app means that your business can reduce the cost of on-site IT. That is, the mobile employee workforce can operate from wherever they have an online connection, meaning less reliance on offices and building costs.
Increases overall efficiency: A Field Service Management App allows you as a manager to monitor in real-time where the employees are and what they are doing. It means that problems can be identified and dealt with immediately. Your field employees, in turn, become more efficient because the app allows them to give a quicker response, instead of taking too long to finish administrative tasks.
Increased customer satisfaction: By offering services that address the customer's individual needs, you will serve them right and win them over. With Field Service Management App, ambiguity is eliminated, and this gives you a more comprehensive picture of the field's operation.
Increased flexibility: Bringing flexibility into the field service workforce is surely worth the time and cost. Field Service Management App comes in sophisticated technology that allows for integration with advanced computer systems. Right from the meeting with the customer to the after-sales service, every stage is documented and tracked for proper management as well as better customer relationship management.
From sales, construction to manufacturing and logistics, Field Service Management systems help commercial companies streamline workflow, and automate processes. This increases flexibility, boosts customer satisfaction, and skyrockets revenue.
Every critical procedure is a click away, and every problem is instantly solved. With the help of a Field Service Management App, you need not have to spend time on extra paperwork, instead, you can go digital in order to manage the daily on-field workforce and business operations.