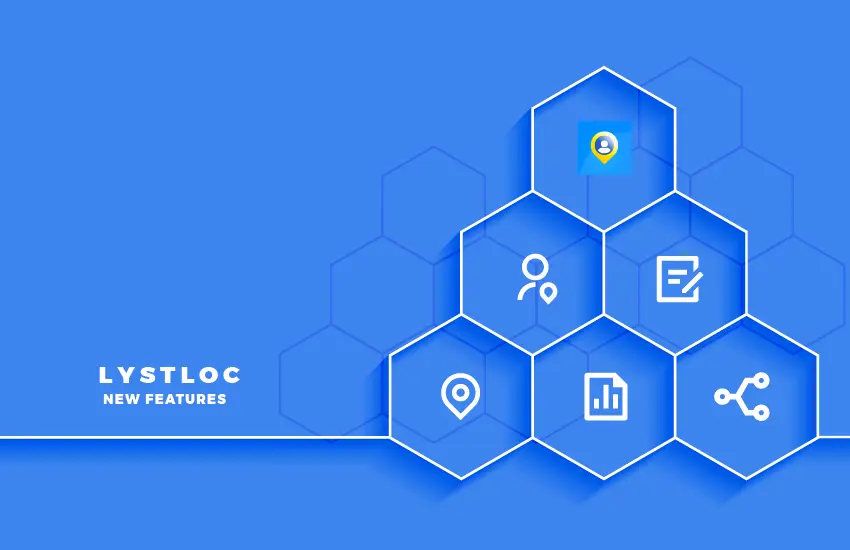 Top 5 New Features Released By Lystloc In 2022
High-minded product development teams and companies are constantly looking for ways to make their apps or software better, enhance their user experience, raise the product's value to its customers, and ultimately improve user engagement. This often results in the creation of new features.
Also with competitors and customers who are not much familiar with your product, adding new features can improve your product's position in the market. In the future, whenever it comes to introducing new attributes and expanding your sales channel, reputation can be really valuable.
Thus, releasing new features is indeed not something you should do but also a chance to revitalize your product by attracting new customers, increasing customer engagement, and enhancing the credibility of your app or software.
When it comes to Lystloc- Field Force Management App, releasing new features is like celebratory time for both the team and the customers who are going to use it. It is on our top priority list that at continuous intervals or on a monthly basis we develop new features and release them to our customers. So that the new features are more beneficial and make our customers' field employee management more simple and efficient.
Here is the list of the top 5 new features released by Lystloc in 2022. Let's have a brief look through on these unique and user-friendly app features and their functions.
Check-in Approval And Edit Meeting Notes Features For Field Employees
In Lystloc, one of the most promising attributes is the field employee meeting check-in/out with location marking and time. To this already existing check-in/out marking, we have added one handier feature called Check-in approval. The field force's task check-ins can now be approved or rejected in real-time, and the field employees can view the status of the check-ins in the daily task timeline.
The check-in approval option will assist field employees in learning whether their managers have authorized or rejected their activities and meetings in order to follow up on leads and workflow continuation.
Next is the latest feature added to Lystloc's Meeting notes option. Once they have checked out, field staffs use these meeting notes to communicate the details of their meetings with clients to their managers. Recently, we added an Edit feature option to this functionality.
Now, employees can use this option to modify their meeting notes at any moment on the same day of check-out if they forgot to include something or gave inaccurate details with regards to their client meetings or customer info.
Revamped Modules In Admin Page & Released Modules In iOS Version
The admin page is part of the app development and is accessible through the web dashboard. It exists to provide the user's command over the app once it has been established. Users may manage all app operations, add or modify data, subscribe or unsubscribe features, and manage all internal functions on the admin page. On the Lystloc admin page, we provide our customers with a wide variety of modules for their easy access and modifications.
Recently we have revamped certain modules in the admin panel, with added new options and also released specific modules in the iOS version too to enhance user-friendliness and quick updates. Here, we have listed out our revamped and iOS-released admin modules:
Revamped Modules
Customer Module: With the new customer module option, you can add, edit, view, and delete your customer details and contacts. Next, you can import customer details and contacts in bulk from the files. Lastly, you can also customize the form fields on the page.
Product Module: With the new product module option you can add, edit, view, and delete product details in the product list. Also, can import product details in bulk by uploading files in a suitable format.
Released In iOS
Lead Module: With the new lead module feature option on your iOS device, you can add, edit, delete and view your leads through the app page itself.
Task Module: Similarly, with the task module option on your iOS device you can add, edit, clone, view, and delete a task. Also, you can check in/out with a task along with their locations.
Location Hierarchy And GPS On/Off Notifications In Your Mobile Screen
With the newly released location hierarchy notification feature, you typically get immediate updates on the movements of your field staff to their designated hierarchy location.
When your field staffs leave and return to their designated work locations, this feature sends you instant notifications to let you know. You can effortlessly monitor and manage them, find out if they have finished their task before leaving, ensure that they arrive at the specified work locations on time, and do a lot more.
Similarly, you can now receive prompt notifications when the GPS of your field force is turned on or off. You will be able to receive in-app notifications with this new functionality to receive real-time updates on the GPS On/Off state of your field staff. These quick updates will help you in approaching your employees for the reason of GPS switching On/Off and remind them if they forget at times to switch GPS On.
Recently Upgraded Lystdata Reports For Our Customers
Lystdata is a report generation feature provided by Lystloc in-built with strong and technically powerful Data Analytics software. Lystdata performs the same Data Analytics process based on the data collected on the daily functionality of the field employees and their meetings with various clients, to make it easy for the organization to analyze the performance of their outside teams and to know about the productivity revenues.
Lystdata plays a key role in improving the business as it is used to gather hidden insights, generate reports, perform field sales analyses, and improve business requirements. Recently to this amazing set of reports, on our customers' demands and needs added some more key reports to it to make their work more convenient and simple.
Attendance Report Based On Working Hours
Based on the pre-set working hours, this report's daily attendance type information is updated. If you have set a requirement of 8 hours for a full day and 4 hours for a half-day, then if an employee checks in or out for just 2 hours, it will be instantly reported as an absence. Similar to this, if they log in and out for 4 hours, it is a half-day; for 8 or 9 hours, it is a full-day. This seems to be icing on the cake, with the daily attendance marking time, now you get to know your employees working hours and intervals.
Detailed Attendance Report In Downloadable Format
This report's data is comparable to that of the daily/monthly attendance report. What's new is that when adding an employee, the user can select which forms and fields to display, and meeting notes information is now displayed in each separate column field including the form name. Furthermore, this report can indeed be downloaded whenever you like based on the name of the employee and the start and end dates of the data record (max. 6 months record).
Software Integration Page And Map Option Updates
The act of linking and bringing together various software modules or sub-systems is known as software integration. Organizations frequently find themselves in need of software integration while switching from a legacy system to a new upgraded data app.
For the smooth transmission of information across various systems, software integrations become essential. Businesses with numerous apps or multiple databases will also combine their software to have consistent KPIs.
Business teams can efficiently use and analyze all of their data by having it recorded and processed in a single integrated system. So, if the software integration tends to have these many benefits and internal sources in it, why can't Lystloc adapt this in its internal data functioning?
View the software integration page, the latest addition to the admin panel by Lystloc. You may see software that is internally connected to the Lystloc app on this integrations page, including Zoho CRM, Razorpay, Darwin Box, and GreytHR. Razorpay, Darwin box, and GreytHR are linked for payroll processing which gets the internal data report of the attendance log-in/out through the Lystloc app.
Additionally, check-in/check-out data is recorded in Zoho CRM, along with generating customer leads. Visit our brand-new software integration page for more info and if you want to install any software do it now in just a few clicks.
For iOS users of Lystloc, we have recently included two additional map options in addition to Apple Maps for field staff location navigation. Now, along with Apple Maps, Waze Maps and Google Maps are available when the user clicks the navigation icon on the task management screen. Customers can select the convenient and comfy map of their preference.
Summing Up
Undoubtedly, a large portion of our customers adores our product completely as it is. However, some customers are constantly looking for more. Whatever the case, they will occasionally appeal to newer features and advancements.
Additionally, releasing popular new features frequently results in requests for many more. It is important that we listen to customers and start improvising ourselves which satisfies the customer needs. The features utilized, the robustness, friendliness, and ease of use of the app all improve with improved app design and development. The needs of the customers and end-users are satisfied by the mobile app's advanced new features.
Check out these new enhanced features in our app and admin panel if you're a Lystloc customer. Since it can be a great benefit for you to manage your field employees and their functions in a more time-saving way and in a better manner. And if you're not already one of our customers, subscribe to the Lystloc app right away to take advantage of these incredible new features and boost the productivity of your field workforce.