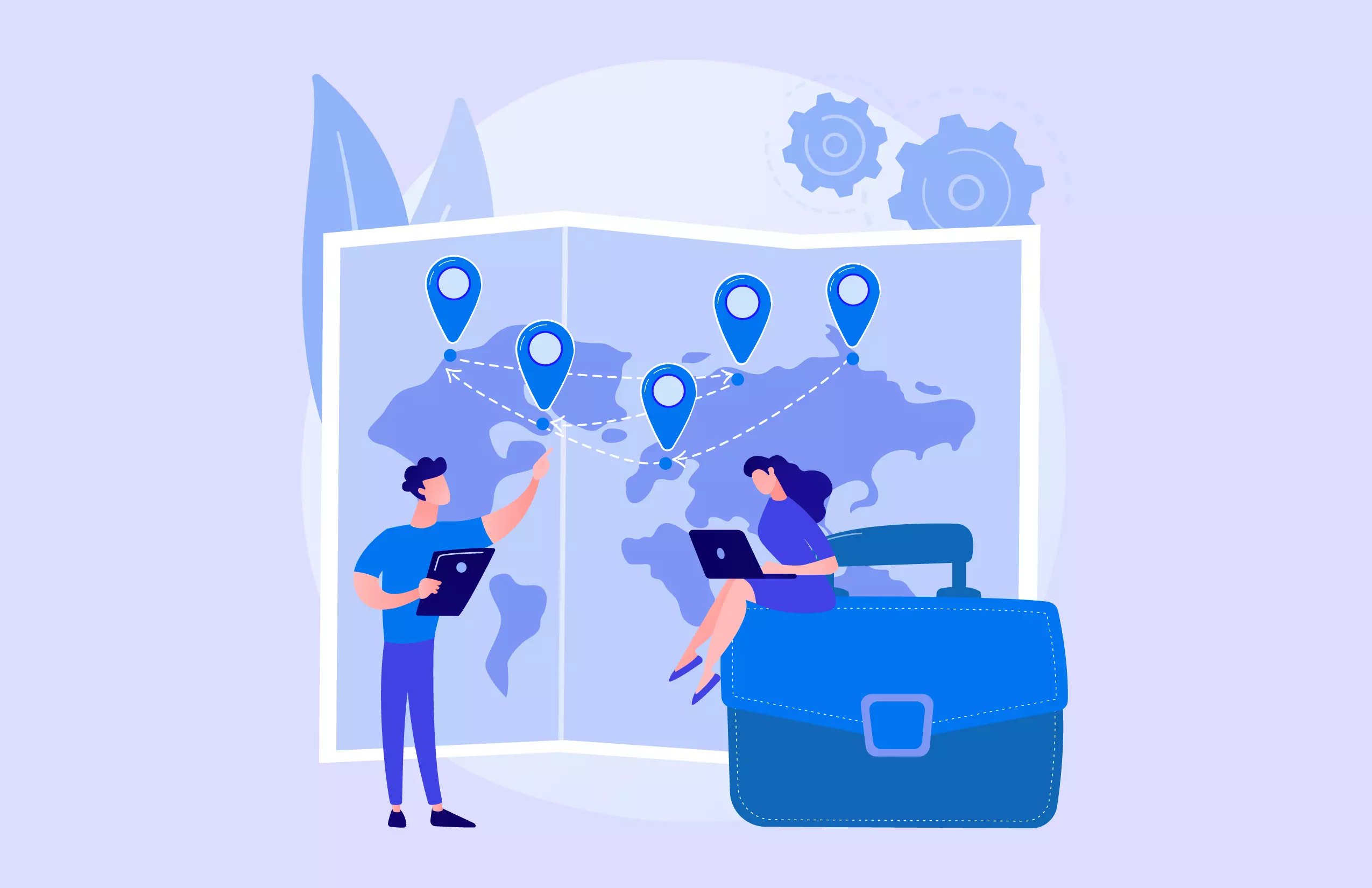 5 Best Software For Sales Territory Management Of Field Sales Team
Sales territory mapping is not a brand-new idea. Before the dawn of the digital era, sales managers would mark up a sales employee's territory on physical paper maps and telephone directories with highlighters, rulers, and marker pens. Organizations were searching as to what solution or product will help them simplify their processes because it was a time-consuming approach that depended on knowledge (data) that might or might not have indeed been up-to-date. This is where sales territory mapping software comes in. Gigabytes of information are available for creating and mapping advanced online sales territories, and even though the data is always changing, each piece of data indicates a potential lead.
What Is Sales Territory Management Software?
A sales territory management software groups clients, leads, and prospects based on parameters like geography, category, or account type. This software is a professional product that combines geolocation and sales intelligence. To construct real-time sales territories, sales managers and field salespersons mostly use this technology.
Additionally, they are able to see leads, clients, and territories on a map thanks to sales territory mapping software. With improved routes and more effective schedules, it even aids salespeople in managing time in the field. A sales territory should typically be handled by a single salesman or sales team. Additionally, it should include just the right number of prospects, leads, and clients to help them reach their sales goals without overloading them.
List Of 5 Best Sales Territory Management Software For Field Workforce
Sales managers can assign location-based jobs and meeting schedules to their field salespeople with greater ease and simplicity by using the sales territory mapping function in the task module. It is simple for field employees to manage their daily location-specific responsibilities due to its complete task-assigning function with location restriction competency. When using sales territory mapping, salespeople can only see their duties when they are inside the task territory boundaries that their sales territory managers have designated.
Based on the sales territories that have been allotted to them, sales personnel can organize and manage their field duties and activities. Managers typically receive immediate updates on the travels of their field staff to their designated sales areas thanks to the most effective location hierarchy notification feature. With the help of this feature, sales managers will receive prompt notifications when their staff leave and return to their designated work locations. You can easily track and manage them, know if they have finished their work before leaving, reach the assigned work locations on time, etc.
Spotio
Sales managers can design personalized maps of various territories to allocate to field sales staff using the Spotio sales territory management software. Managers won't be required to spend hours analyzing traditional maps and manually mapping out sales territories anymore owing to how simple it is to establish, distribute, and monitor sales team territories. Managers can make a mapping of their regions using software for customer sales territory management. They can track sales reps' travels within that region by marking pins at particular locations.
The created sales territory map will be automatically updated with location pins if a field sales representative closes a sale to offer the managers a pictorial indication of closed sales. When the management looks at their annual or monthly goals, this will be insightful. Companies can examine which sales territories performed well and how they might improve their territories for the upcoming quarter. Spotio software lets field salespeople promote their products and services to much more customers while also conserving time and money.
Apptivo
Everything that a company requires, notably sales management, customer relationship management, and invoicing, is provided by the Apptivo business management app. With Apptivo's sales territory management solution, sales managers can define customer and contact area segments depending on the place of work, subdivided by area, state, and city. Manage the sales funnel and keep tabs on the sales activity via a mobile device on the go. It assists companies in monitoring the sales volume and identifying the sales territories that generate the greatest and lowest revenue.
Additionally, the software provides services customized for specific sectors, allowing the users to manage sales territories in businesses like transportation, real estate, trade, and manufacturing. Depending on parental sales territories and the sub-territories that fall under them, projects and leads can indeed be allocated. Sales reps can be given limitations and permissions depending on the territories that have been given to them. The sales territory control functionality grants managers accessibility, configuration, and monitoring rights to territories. Gives field sales professionals the ability to add labels to areas to better tailor the requirements and specifications for a client, contacts, or prospects.
Maptive
Maptive's rich set of features, which includes built-in route management and flexibility to attach and exchange information about customers and prospects, is appreciated by sales teams. Sales managers can almost rapidly create effective sales routes with limitless visits using Maptive's sales territory management option.
The sales employees will be able to determine the quickest route between each of the visits they have scheduled for the day using built-in navigation tools. Additionally, managers will be able to plan and record routes for each of their salesmen so they can spend less time in the office and more time selling.
The software will then streamline the route to cut down on travel time after the sale territory map notifies the field sales personnel which customers in the area they are going to be in charge of. One can easily and securely submit location-based info to the software to get a fully configurable and user-friendly map. Maptive is the finest comprehensive sales territory management software because it has a robust feature set centered on straightforward route and territory planning enhancement, extensive customization, and comprehensive territory unique insights with interactive maps and demographic trends.
eSpatial
The sales territory management software eSpatial integrates well with other field sales tools. Extensive personalization, comprehensive data volumes, sales territory planning, and Google Maps connectivity are just a few of the features that firms look for in sales mapping software that eSpatial has. For real-time insights into corporate sales data, businesses can directly connect numerous sources of data, such as CRM and databases, into eSpatial.
Using eSpatial, managers may alter their icons in addition to the size and shade of the data points on the territory map. In this manner, users are able to tailor data points to a particular map location. This sales territory management software also has a great sales territorial customizable feature.
To boost sales development, companies can include particular orientations and characteristics in each rep's territories. The capabilities of this tool are far superior in terms of territory and route management. eSpatial also provides management with a more thorough view as to how the salespeople are doing due to its being more insightful.
Summing Up
Since creating a sales territory mapping is not an easy operation, most sales teams now use sales territory management software to do the task. Never before has there been a good opportunity to implement this effective sales strategy within the company thanks to the range of sales territory management software on the market. Bid adieu to sales redundancies, an unbalanced customer base, and misaligned sales targets, and say hello to greater productivity and efficiency. Managers can get their salespeople off to a good start by using the correct sales territory management software tool.