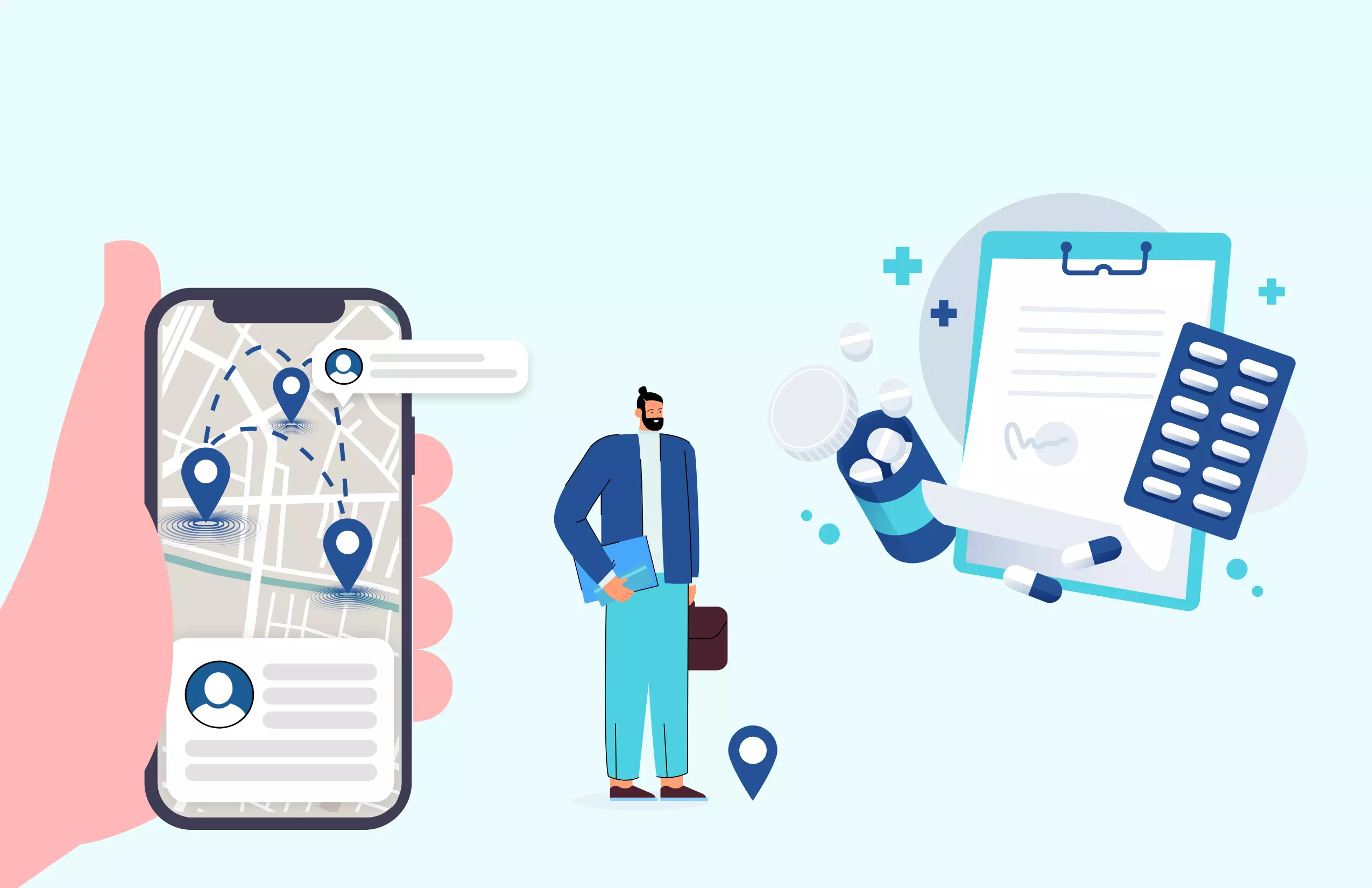 5 Best Sales Force Automation Software For Pharmaceutical Industries
Pharma companies benefit from sales force automation software by keeping track of client data to deliver better customer support, automating lead generation to locate potential clients rapidly, and having accurate facts on hand to make smarter decisions easier. By handling client contacts, customer relationships, leads and sales, and other operations, pharma sales force automation software solutions simplify sales processes and procedures.
In this situation, pharma companies' sales force automation software helps them function more efficiently while also saving time, money, and energy. In the end, it gives pharma industries a more excellent knowledge and understanding of their sales reps' operations so they can decide how to handle sales more intelligently.
The automation functionality of this kind of software improves efficiency by lowering human error rates and preventing lost data caused by numerous disconnected subsystems. Pharma sales force automation software ultimately improves business performance by raising the overall efficiency of all sales teams, offering value for clients, and facilitating quicker problem-solving.
What Is Sales Force Automation?
Sales force automation is an advanced method that automates and includes distinctive aspects of business operations, from the management of customer contacts to the monitoring of salesperson performance to the management of sales forecasts. In other terms, SFA connects every business unit and enables a constant flow of data via various segments that might otherwise require considerable thinking over various levels, making sales force automation one of the most essential components of all successful organizations.
In order to help pharma sales management with their functions of information and prospect handling, location data, and sales conversions, sales force automation is the technique of automating sales operations. It comprises tedious but time-consuming tasks related to client data input, data classification, task scheduling, and other background activities.
Top 5 Best Sales Force Automation Software For Pharma Companies
Lystloc
Lystloc is a real-time location intelligence mobile sales force automation software to manage the pharma sales team, field support team, and remote employees' location-based attendance. Additionally, custom forms can be used to gather data on client visits, sales orders, and total trade value from field employees. The sales reps' route and distance can also be tracked, which aids with fuel and overall travel reimbursements.
Get all of the data-driven insights you need using the "Lystdata" real-time data reporting tool. Born out of the parent organization's own need to measure the productivity of their workforce who are on-field. They preferred to base decisions on actual location data rather than on speculations.
Lystloc aimed to provide a pharma sales force automation software that can solve location-based challenges and provide data insights for strategic and tactical planning. The software thrives to provide the most efficient and cost-effective sales force automation software package that aids small and growing pharma businesses in boosting the productivity of their sales forces and increasing revenues. The tool acts as an all-in-one sales software and provides easy integration with HRMS, CRM, and Payroll software. This makes Lystloc a top choice for sales force automation solutions in the following period along with all the advanced features displayed by it.
SalesDiary
SalesDiary is a mobile-based, artificial intelligence-powered field sales force automation software that can be employed to manage a firm's field sales function. Sales managers can set targets for field salesmen, track their field attendance, and map out their travel routes utilizing advanced sales force automation software for pharma companies. Once implemented into the app's approved workflow, SalesDiary will only serve to increase downstream sales productivity. An internal Distribution Management System has been developed for the SalesDiary app.
The sales force can schedule delivery options, stocks, payments, and overdue using this single mobile software. This field sales force automation software for pharma companies also offers day-level route planning for outdoor sales and marketing personnel to cover multiple medical store outlets on a regular basis. A task route plan outlines whom and when to meet based on the requirements and specifications for each type of sales or client base. The senior managers can define KPIs and KRAs for every customer in the company's profit stream using the BI services offered by the field sales software tool.
LeadSquarded
Leadsquared is a sales force automation and CRM technology that aids pharma sales teams in performing trouble-free field operations. To increase productivity, sales teams can neatly schedule their days beforehand, find their way to meetings, and automate tedious sales chores. The pharma sales force automation software states that due to its powerful sales and commercial automation technologies, it will enhance higher sales and marketing efficiency. Even with poor network connectivity, sales reps may still view all of their contacts, activities, and client meetings. Each time a new job or prospect is routed to the sales team, they will also receive immediate notification, allowing them to go to work right away.
Leadsquared provides cutting-edge sales force automation solutions, including lead generation, nurturing, distribution, scoring using predictive analytics, and sales implementation. The solution also offers a platform for field force automation, which promotes field teams' effectiveness by automating, monitoring, and documenting field sales activities. Sales supervisors and managers can monitor the daily field productivity of their team. Know about the employee workday via data insights on attendance, productivity, location data, etc.
Delta Sales App
For pharma companies, manufacturers, suppliers, wholesalers, and businesses with field staff, there is a software application called Delta Sales App that automates sales forces and tracks employees. It assists pharma sales management in boosting client engagements, improving field force productivity, and minimizing administrative work, which would in turn increases revenue, with features such as order tracking, customer relationship management, workforce monitoring, daily attendance, route planning, and much more.
One of the greatest field sales automation and salesperson location monitoring apps is Delta Sales App, which serves a variety of industries with many field sales staff, like FMCGs, Pharmaceuticals, Field Technicians, and Automobiles. You, as a sales manager or admin, can accurately supervise the sales team without relying on manual records due to this pharma sales force automation software deployed in the smartphones of the field sales reps. This software is ideal for any company with numerous field salespeople because it allows you to pre-define sales routes, and assignments, and monitor sales employee locations using GPS. This sales app can help businesses with a large sales force improve the effectiveness of their sales team.
ZohoCRM
A cloud-based CRM software called Zoho CRM provides capabilities for pharma sales force automation. The sales team uses SFA in Zoho CRM to monitor communications, handle leads, and occasionally create marketing initiatives. By handling the typical activities for pharma sales management, it provides a feature that enables the sales reps to be much more productive. The tool's solutions are created specifically for SMEs and start-ups that need an engaging user interface. The personalization of sales processes, which retains salespeople motivated to hit their goals, is a crucial element provided by the software.
Customer management, sales management, estimating, daily task workflows, and transaction management are some of the other key functions that ZohoCRM provides. It is a solid competitor for the top five sales force automation software for pharma companies due to its adaptable automation platform. By reducing the amount of time spent on monotonous, non-revenue-generating activities and freeing up more time for deal-closing, Zoho CRM's Salesforce automation can aid pharmaceutical sales teams in productivity improvement.
Conclusion
Each pharmaceutical company needs to have an effective pharma sales force automation software to boost the efficiency of the sales and commercial teams in order to enhance outside sales and overall business. When mobile sales force automation is implemented properly, field salespeople and their teams are more engaged, which allows for more interactive communication, more trust, and higher sales profit. Virtual reality will undoubtedly be added to sales force automation for pharma companies in the coming years, which will further boost the efficacy and productivity of pharma sales reps.