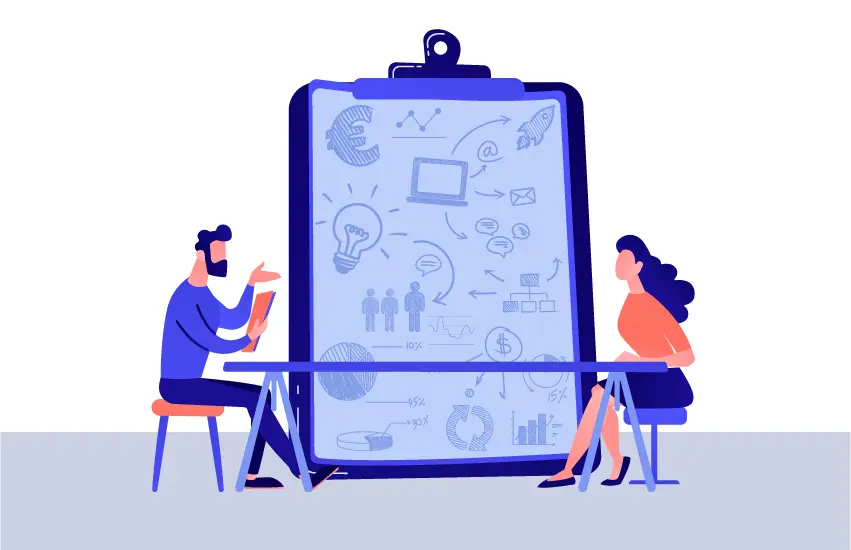 Top 15 Interview Questions Asked When Hiring Sales Managers And How To Answer Them
Applying for a position as a sales manager? When preparing for a sales manager interview, it is important to tailor your answers to the role for which you are applying. It's important to remember that the questions recruiters will ask you during a sales manager interview are not all fair. Each question in the interview has a specific purpose, therefore you should aim to answer each one well to check off all the criteria.
However, the majority of sales manager interview questions often begin with an introduction about you and conclude with questions on your areas of sales expertise. While not every sales manager interview question can be predicted, research and observation have shown that the majority of them are variations on the most often posed sales job interview questions.
In order to assist you to conquer the interview phase, today we will discuss the top 15 sales manager interview questions and answers for them.
15 Important Sales Manager Interview Questions And Answers
Tell Me A Bit About Yourself.
As an interviewer, everyone will always ask their candidates this one question. Your ability to promote yourself will also be evaluated, along with your communication and thought abilities. The atmosphere of the interview is typically set by this question. As the interview is for a sales manager position, they learn more about your interests, abilities, and success in sales in addition to the fundamentals like your educational and professional backgrounds. They can also try to get a general sense of who you are and what your personality is.
Why Do You Want To Do A Sales Manager Role?
This question might help the interviewer in understanding what motivates the candidates and how devoted they will be to your business in challenging times. More so than a raise in pay or a promotion, they ought to be driven by true motivation. Anyone who is skilled at what they do is likely to be passionate about it as well. The perfect candidate will claim to be dedicated to forming successful teams, applauding others' success, or something related.

Sample Answer
"Since sales management is one of the few professions where one's constant action, careful planning, strategic thinking, and hard work literally pay off, that is why I decided to pursue a career in it. While occasionally challenging, it is enjoyable and gratifying."
What Is Your Take On Our Company And Business?
This is usually a make-or-break sales manager interview question. Well before the interview process, each one of the sales manager candidates should have thoroughly researched your company and their business.
Do you genuinely know about their product and service, or are you just hoping for the best after sending the resume to everyone? You have a great chance to enact into pitching their product at this time as well if you become a part of their business in the future.
Sample Answer
"Sincerely speaking, I have been following your work for a pretty long time. I admire your company's commitment to giving customers exceptional products and services. Initially, with only a few customers, this company now has numerous businesses and customers worldwide. Your company's growth chart has been spectacular, and the future appears astonishingly promising. I have in fact always wished to work for and learn from your company."
What Are Your Short-Term And Long-Term Career Goals?
This is also one of the important sales job interview questions asked by the recruiters. Organizations prefer to work with ambitious people who are certain of their career direction. It demonstrates that you have excellent clarity of mind to support your decisions. As a result, you are inspired and pushed to achieve your objectives. Give a concise summary of your career's long- and short-term goals, along with an explanation of their significance to you.
Sample Answer
"As an employee of a mission-driven organization, I am looking forward to expanding my core competencies skills and acquiring on-the-job experience. I'm excited to put my skills to the test by accepting more difficult, higher-level duties. My concentration is on honing my leadership skills because I picture myself in a senior managerial position in a reputable company in the long term. I have faith that my short-term aims will support the accomplishment of my long-term ones."
What Are Your Key Strengths And Weaknesses?
The purpose of this common interview question for sales manager candidates is to determine whether or not the business will benefit from your strengths, including your skills, while also determining whether or not your weaknesses would hinder your efficiency. Select strengths that are relevant to the position you're looking for. Even if you acknowledge a weakness, transform it into strength or state you're working to get better at it.
Sample Answer
"One of my strengths is that I work diligently and with complete focus on all of my tasks. Second, I have a highly positive outlook on life and believe that a positive attitude can quickly turn a bad circumstance around.

My tendency to be hypercritical of myself is a weakness. Every time I finish a job, I can't help but think that I could have done more—even if my efforts were well-received. I frequently overwork myself as a result of this, which makes me feel exhausted."
What Aspect Of Sales Presented You With The Biggest Challenges, And How Did You Handle Them?
Asking this interview question for area sales manager candidates requires them to explain their work process to an interviewer. Although the difficulty was substantial, the most important aspect of the answer was how you overcome it.
You as a candidate who prefers to showcase your successes instead of talk about your challenges may find it difficult to respond to this question. But in order to communicate the insights acquired and make your problem-solving ability known, you must be prepared to discuss a previous problem and its solution.
Sample Answer
"The toughest challenge was setting an extremely ambitious goal for us during the hectic season last year, but we were convinced we could succeed. However, we fell short of our goal and delivered a pretty average performance. Despite our disappointment, the sales team thought about the plan and followed my advice. Together, we shared our best strategies and developed a more unified plan for the following quarter, which made us surpass our goal."
What Two Characteristics Every Sales Manager Should Possess?
The hiring person will use this question for a sales manager interview to learn more about your approach to the sales process. Accentuate characteristics that pertain to unique, in-demand sales talents that provide real value in your answer because it will reveal how you behave as a sales manager.
Sample Answer
"Each sales manager should act with positivity at work to create a positive working environment for their sales employees. This is a crucial trait for them to exhibit during slow periods when salespeople don't close as many deals.
Transparency is also vital – it helps their employees comprehend the rationale behind specific sales quota goals or departmental tasks, which is another crucial aspect of a sales manager. Sales managers can gain their workforce' trust and loyalty by being open and honest about workplace activities since it makes them feel appreciated."
Describe Your Sales Management Experience In Your Previous Work.
This interview question is simple if you have past experience as a regional, territory, or area sales manager. If this is your first interview for a sales manager position, take advantage of the chance to emphasize your experience that is pertinent to the position. Tell the interviewer about your accomplishments and skills instead of simply reaffirming your profile.
Sample Answer
"Schedules and priorities are everything to me. I would break down the priorities into time periods of a day, week, month, and year to determine the best approach. I'd utilize a teaming program so I could view the schedule and future tasks for the entire sales team as a whole.
Then, I would discuss the deadlines with my team every day or at least once a week. In this manner, I would indeed be able to talk with my team about what needs to be done, and we would collaborate to reorder our priorities as we individually took on the tasks one at a time."
How Well Do You Handle Failures In Sales Process?
Accepting failures and learning from them for future efforts is one of the traits that salespersons are known for. A sales manager needs to understand how to assess and manage failed sales initiatives.
When responding to this question in a sales manager interview, use a relevant experience to describe your goal, what did go wrong, who was engaged, and also what you took out from the experience. Inform them of the important lessons you learned, which you now apply to prevent similar possible failures.
Sample Answer
"Since I have always believed that no one is flawless, I feel at ease accepting responsibility for my failings in the sales process. My strategy is to determine what I could alter to prevent experiencing a similar situation in future sales deals.
I seek advice on how to do better from my professional colleagues doing similar work as well as my coworkers at my company. To improve my sales abilities, I am zealous about attending sales courses, training seminars, and online tutorials."
How Do You Keep Up With The Latest Sales Trends?
To offer customers the greatest solutions, businesses seek to engage sales managers that continually improve their talents and keep updated on the latest market developments. Tell the interviewer that you are enthusiastic about sales and learning new things. Additionally, learning new sales skills, reading up on the market, listening to the newest podcasts, and reading blogs all help to make sales intriguing.
Sample Answer
Reading magazines, journals, and newspapers is a time-tested way to keep yourself updated with the latest trends.
Developing networking connections increases your knowledge base and allows you to benefit from shared experience.
One can find a wealth of information about what is popular in the world of sales by following particular professional organizations, joining online forums, and liking pages on various social media channels like Facebook, Linkedin, Twitter, YouTube, Blogger, etc.
How Would You Motivate Your Sales Team As A Leader?
Keeping salespeople motivated and enthusiastic about their job is an important aspect of managing them. A prospective sales manager should constantly be familiar with their team members' potential and understand how to get the best performance out of them. Recruiters want to be sure that the sales manager they employ is aware of the importance of this topic and the variations it may have depending on the individual.
Sample Answer
"My secret to a motivated sales team is to get to know each member, discover their areas of passion, and learn how they prefer to be acknowledged. My team will perform more efficiently if I can provide them with tasks they enjoy and feel comfortable performing and the appropriate recognition. Everyone makes mistakes, therefore I concentrate more on the lesson than the mistake. I advise the person to give it another shot and to take advantage of the chance to hone similar skills and experience."
How Would You Onboard And Train A New Sales Person?
In order to ensure the success of the new sales force, you as a sales manager candidate should demonstrate your desire to accept a hands-on commitment to onboarding.
Your interviewer will feel that you might not be able to train sales reps effectively if you stay away from these things and merely say that you would discuss the necessary revenue targets and send the salesperson certain video tutorials. A positive indication is when you mention things like:
Sample Answer
Setting expectations for each team member and checking in with them to see if they are meeting those expectations.
By supplying needed resources.
Introducing the new salesman to important company members.
Appointing a competent mentor to assist the new salesperson.
What Can You Do To Convince Us That You Won't Quit And Go To The Next Job In A Year?
Since recruiting and onboarding are pricey, many recruiters place a high focus on employee retention. This area sales manager interview question is asking for signs that you care enough about the business to stay put. Include a brief explanation of how a current business development relates to your objectives. Discuss your plans to progress with the company and point out any exciting chances for growth.
Sample Answer
"I have been convinced during the entire interview process that this is the perfect role, position, and organization for me. Because I appreciate the vast corporate structure you described and there is a tremendous possibility for me to grow along with the firm, I can contribute a lot of knowledge to help the sales team develop, and build solid business relationships, processes, and reports to increase sales performance and productivity."
Tell Us About Your Most Recent Successful Sale.
When employers ask this sales manager interview question, they want to determine whether your job success was mostly the result of luck or if you have the expertise and intelligence to close deals. Don't be afraid to provide specifics, including the date, events, people involved, the way the sale was ultimately done, and what happened thereafter. It is essential that any experience you relate exemplifies the positive qualities associated with the sales manager role.
Sample Answer
"I recently sold XYZ product to ABC Automotives, which was my biggest sale. The customer highlighted a concern that the business software could resolve during that first conversation, which allowed me to focus following presentations and interactions on finding solutions.
Believe it or not, this purchase began with a simple cold call. Building relationships with the customer and offering targeted software demos that highlighted how the software will increase productivity and save the client time were crucial in closing this sale."
Do You Have Any Questions To Ask From Your Side?
Even though it can be the last question you hear during an interview, don't take it lightly. Make sure you are prepared with a list of smart and well-thought-out questions to reflect your interest in and enthusiasm for the role. Additionally, this is your chance to learn more about the organization's operations and what might be demanded of you if you had been recruited.
Sample Answer
Could you elaborate on the daily duties associated with this position? What would you say about the pace of an average day?
What would you say about the organization's management style?
What objectives does the business have for the future year?
Can you elaborate on the workplace culture of this organization?
Bottom Line
These are the most important sales manager interview questions that are asked by the recruiters. As we've highlighted, being well-prepared is essential if you want to rock the interview and get your ideal job. Therefore, be sure to be well-prepared and have done the necessary research about the job position and the organization.
For recruiters, make sure that your candidates are well-versed in the duties expected of them in the position, the kinds of prospective they will be interacting with, and the peculiarities of your particular market. More importantly, you would like them to be willing to keep learning in order to keep your business competitive. Set up a series of questions for sales managers' interviews that will reveal their enthusiasm, driving forces, and prior experiences, as well as how these will fit into the specifics of their sales function.