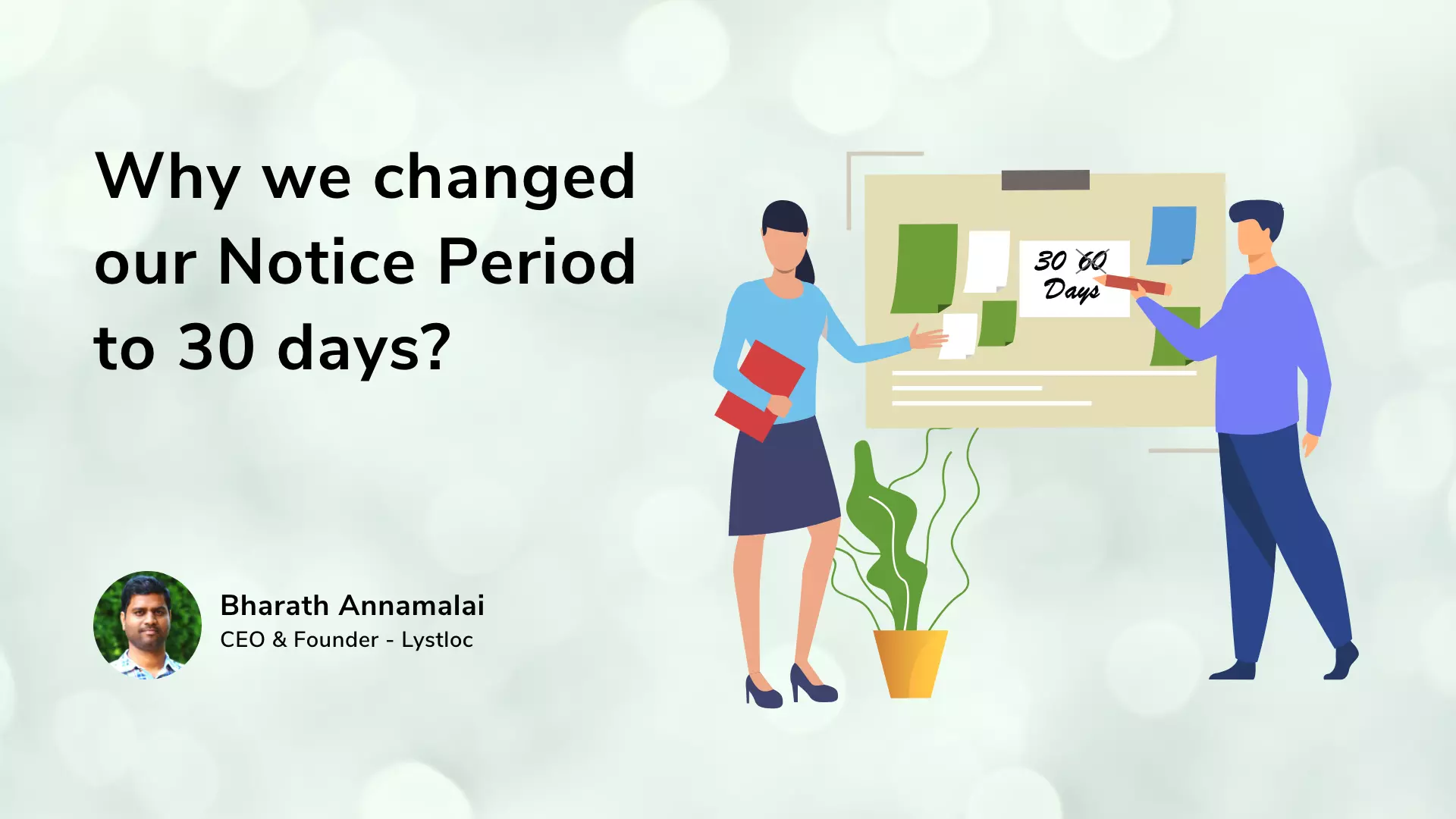 Why we changed our Notice Period to 30 Days?
As a Tech startup company, hiring is a very important aspect of growth starting from the second person in the company.
There were so many instances where candidates went back once they saw our office from outside. It is inevitable and you cannot blame the candidates. It is just the expectations were not met in terms of glass door buildings and high end snack bars, cafeteria etc.,
Every start up faces challenges in hiring quality candidates but what makes the hiring so difficult in India is the 60 days notice period. Some bigger 100k+ employees organizations have 90 days notice period.
Despite all these challenges; after all the interviews done, finding a quality candidate with your budget is an herculean task.
With all the stars aligned, we extend our offer to the candidates. Candidates accepted the offer and gave notice period to their current companies.
Now, importantly the notice period is 90 days. You are happy with the candidate and start waiting for the candidate to join.
Now the actual charade starts with the candidates. Since they are already in the market, they might continue to give the interviews and try to get a better offer than the one we offered. You cannot blame them as it is in their every right that they want to maximize the move.
By doing so, they get better numbers irrespective of whether they love the new job or not by showing our offer which is a certain x% higher than their current salary. It goes in cycle and within 90 days it is upto that candidate's ethical limit to stop. By then they would have got the offer way more than we offered.
Now, we waited patiently for 90 days, rejecting all other good candidates because as a startup company you cannot afford to take chances with offering a second candidate for the same role. This is very true to our case as we never rescind any offer so far in our 6 years of journey. Whether it is covid or not, does not matter as our value is our commitment to our employees even if they did not join yet.
The candidates would ghost us on the day they were supposed to join us. Now, we already wasted 90 days and we have to start all over again and there is no guarantee the next one will join for sure. For a key position that we were hiring we wasted around 10 months for the same reason.
I hear the same problems from my friends in bigger companies as well.
One of the root causes for this hiring problem is this 90 days notice period and it does not make sense a wee bit to me to keep the employees 90 days in the company after they decided to leave. It's neither good for that employee nor the other employees.
Unfortunately, it is just that we cannot release the employee immediately because we won't be able to hire a new person on time because of this vicious cycle of this notice period havoc.
So, it is upto the companies to start adopting this 30 days or lesser notice period. In the US it is a 2 weeks notice period and I understand the culture and Infrastructure are different; so a 30 days notice period in India is reasonable and effective to break this not so beneficial policy.
In India, the IT companies like Infosys, TCS, CTS, Wipro and HCL etc., have 99% of IT workers. The bigger companies have got to take the initiative on this as this is going to benefit them more than others.
We made it as a 30 days notice period effective immediately this month. And it was our time to take the initiative rather than waiting for some bigger organization to do so irrespective of our size.
It was a very tough decision for me to take as I am putting the business continuity at risk but at the same time it was an easy decision to take as I am confident that we provide a very great environment and infrastructure for our team members to learn, grow and excel in their career so that they don't have to think about the separation at all.
After all, it is the right thing to do!