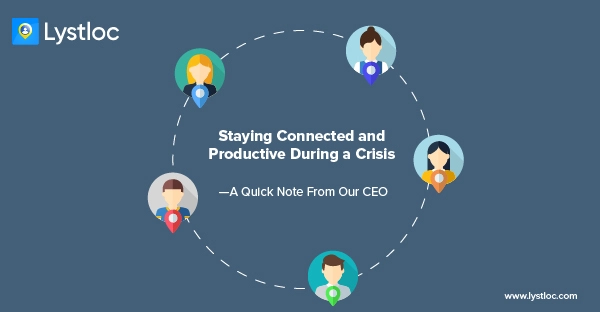 Staying Connected and Productive During a Crisis
By now, you've seen a flood of emails and blog posts from businesses about their response to COVID-19. All the news about the economy, disruption to business, and an increase in customer questions make it easy to feel overwhelmed and confused about what actions to take next.
Now, more than ever, social media represents an unprecedented way to reach people, coordinate government responses, and keep businesses close to their customers during this disruptive time.
Here are three small ways Lystloc is going to help:
1. Supporting our customers:
In addition to our usual support and fully operational team, we're launching a series of free online workshops on how brands can make their team remote relative quick.
Help managing the daily routines as usual without impacting to their data integrity on attendance, tasks and payroll data with Lystloc remote users license
2. We're offering Lystloc Office (Remote) User licenses free:
Organizations that have been impacted by the crisis and offered to make their employees work remote can get free access to our Lystloc remote user and API licenses until June 1st, 2020.
This will help the organizations that never planned for remote work to get up and running in a two minutes set up with Lystloc, so that the customer's attendance and payroll systems can be maintained for business continuity. Especially to get going with the paycheck to the employees without any disruption.
3. Protecting our employees:
We've made remote work mandatory for our US and India offices while supporting our customers more than ever without any impact. Like you, we are deeply concerned and want to do whatever it takes to keep our communities and families safe and healthy.
Is there anything we can help you with?
We know our role in this complex-unprecedented situation is small. If we can support you, let us know. We don't have all the answers but can work together to find the best way forward.
Thank you, as always, for being a valued Lystloc Customer!
– Bharath Annamalai, CEO